The adorable, always humorous MBA Jane is my way of honoring our Sisterhood Merit Badge program, now with 6,450 dues-paying members who have earned an amazing number of merit badges so far—9,160 total! Take it away, MBA Jane!!! MJ 
Wondering who I am? I'm Merit Badge Awardee Jane (MBA Jane for short). In my former life …   
For this week's Stitching and Crafting/Sew Wonderful Intermediate Level Merit Badge, I knew I had to conquer something. Namely: my phobia of printed fabric other than stripes or plaids.
Why stripes or plaids, you ask? My, so inquisitive. Is it because I have a secret obsession with Scottish prints? Was I a candy striper in another life? A Scottish candy striper, perhaps?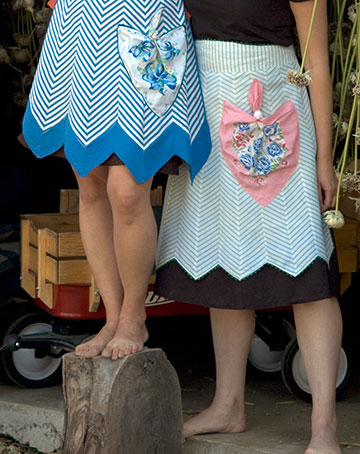 Well, no. I'll tell you the real reason.
They're so much easier to sew straight lines on.
For example: I made calico print curtains. They hang at diagonal-type draping (not what I was going for). I sewed a batch of polka-dot printed pillows (they were supposed to be square; let's call the finished product … umm … hexagon-tangle). I made Mr. Wonderful a homemade button-down shirt (the buttons don't exactly line up).
I'm a mess when it comes to straight lines. I was afraid to show myself at my monthly Sewing Sisters Club. I was ashamed to walk into JoAnn Fabrics and Crafts. I couldn't even muster enough self-confidence to rifle through the fabric bolts at my local flea market. Something had to be done. I couldn't live like this!
So, I did what any self-respecting farmgirl would do in a situation like this: I pretended to be infatuated and passionate only about stripes and plaids.
I had no choice.
Don't judge me.
Eventually, the siren call of gingham was getting too much to bear.
I couldn't look away from paisley. I found myself sneaking peeks at geometrics. I made puppy dog eyes at toile. I fell into a small coma at a fabric sale and when I came to, I was petting and cooing over a camouflage bolt.
*gasp*
When I found myself clutching a square of trompe l'oeil at 2 a.m. one night, in a clammy sweat, I knew something had to be done.
I sat myself down with a yard of plain blue fabric, and decided to learn to sew a straight seam, once and for all. I gave myself a stern talking to, a pep talk, if you will. It went something like this, in case you, too, need a blueprint for overcoming your straight line phobia:
"Okay, Jane, my girl. Easy does it. Deep breaths. Just use your handy dandy fabric pencil to mark lightly on your fabric … I said, lightly, woman! For cryin' in the night. Okay, okay, I'm sorry. You're doing fine. It's a bit diagonal, but that doesn't mean it isn't straight, does it? Good. Good. Very good. Um, not so good. Alright, time to sew. Now, now, no shaking. Not with a needle in your hand. Very good. Okay, we're getting somewhere. This isn't so bad. Steady now, girl. Steady on …
I ended my 12-step program as I end each 12-step program:
With a set of lovely … and straight—well, straight-ish—curtains made of chintz. And a set of throw pillows made of toile.
Feeling proud of myself and my new badge, I decided to conquer another fear: my fear of that peach cobbler in my freezer getting freezer burn. Only one way to remedy that.