The adorable, always humorous MBA Jane is my way of honoring our Sisterhood Merit Badge program, now with 6,962 dues-paying members who have earned an amazing number of merit badges so far—9,905 total! Take it away, MBA Jane!!! ~MaryJane 
Wondering who I am? I'm Merit Badge Awardee Jane (MBA Jane for short). In my former life …
For this week's Cleaning Up/It's In The Bag Beginner Level Young Cultivator Merit Badge, I cautioned my young'un that this was a more difficult badge than what first meets the eye of the beholder. So to speak.
Getting in the habit of collecting and using reusable shopping bags isn't as easy as it looks. I should know; it's taken me approximately forever to get good at it. And I still occasionally leave them in the car … or the pantry. The guilty feeling I get when that happens and I am forced to take home a ridiculous amount of plastic sacks is not something I wish on anyone.
Especially cute lil' Nora …
Being a tweener, Nora was all about accessorizing and bags. She had a purse for every occasion (most filled with candy, gum, and lip balm). So she was all about this badge.
To earn her Beginner Level badge, all she had to do was collect three bags. We'd get to the using them part later.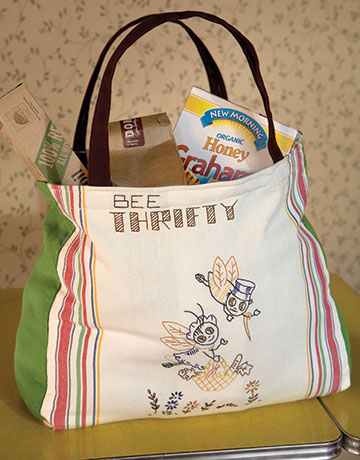 Nora had spent all her allowance on (what else?) lip balm, so we decided to improvise the situation by upcycling, recycling, well, any kind of cycling that would get us three bags. I figured that was the best way to do it anyway, am I right? Of course I am.
Now I have a collection of reusable bags that would make Imelda Marcos cry tears of joy. (Wait. Or was it shoes she was famous for? Well, no matter. Obviously, a woman with that big of shoe collection had bags to match. Tru dat.) But I didn't want to make things TOO easy on Nora. "Here are three bags, and oh yeah, your Not-So-Hard-Earned Merit Badge." No way, bluejay!
But I, too, was a bit low on the dough. I had used up my own personal allowance on (what else?) organic coffee, so even the .99 bag at the thrift shop was out of the question. We were gonna have to get creative.
Out came the scissors, an old T-shirt that Nora had outgrown, and the sewing machine. We lopped off the sleeves of the T and used them as pockets, sewed up the sides, and fastened handles. It was super-fast and easy, too. We only sewed the pockets on upside down once. If you do it right the first time, this is like a 10-minute project, chickadees! Fifteen if you have to rethread the needle and lose the scissors under the cat.
Since Nora's shirt had been little to begin with, our bag turned out small, but hey—it was perfect for (what else?) lip-balm shopping.
The next bag came from a new store opening up that was giving away free bags with their logo stamped on them. Since it was a cute logo with a puppy, Nora approved.
Note from me to you: if you want tweens to actually use these bags, then they have to be cute. You and I may carry around an ugly old thing because it's the perfect size for hauling a five-pound bag of flour, but no dice when it comes to mini-Imeldas.
Number three came from a half yard of oilcloth fabric I had left over from some outdoor pillows I had made recently. Nora thought the waterproof material would be excellent for taking to the beach and the pool. I agreed, and we whipped one up in no time.
All in all, our Beginner Level badge was a blast: Nora got her bags and I got addicted to Mango Tango lip balm.