Welcome New Sisters! (click for current roster)
Merit Badge Awardees (click for latest awards)
My featured Merit Badge Awardee of the Week is … RubySlider!!!
Ruby Slider (#1663) has received a certificate of achievement in Make it Easy for earning a Beginner, Intermediate, and Expert Level Collect It! Merit Badge!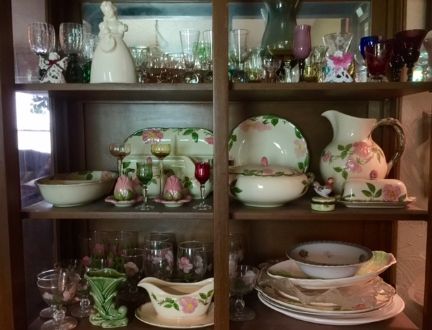 "My passion is antiques and one of my favorites is my Chambers stove. The one I have was made sometime between 1949 and 1952 in Shelbyville, Indiana. People are passionate about these jewels, so information on them is easy to find. Mine was my mother's before she came to me and she is a Deluxe Model C Style 90 in pastel yellow. It has 3 burners, a deep well for soups, stews or baking, a griddle and broiler. The oven(s) are so heat-efficient that I can turn them off 1/4 to 1/2 thru cooking and everything comes out perfect.
I inherited a partial set of Franciscan dinnerware in the desert rose pattern. I have since added the serving pieces as I can locate them. I haven't been able to locate any pieces locally, I purchased some pieces online and I'm always on the lookout for additional unique pieces. All of my collection was made in the USA. I keep finding pieces that are from Portugal.
As far as value, the prices I find are all over the place. For instance, I found a gravy boat in excellent condition for $9 and have seen the same piece for as much as $40. I have a total of 62 pieces. My wish list contains pickle dish, a three-tier platter, egg cups, and the crescent salad plates.
I'm not in any hurry to grow my collection. The happy surprises of finding a piece when you least expect it are the best!
I keep my antique Franciscan collection safely tucked away in a china cabinet, I also store my collection of cordial glasses in there (that I have been collecting since I was in my 20s). I have two small built-in display cabinets that house small vintage crocks, a glass hand-crank butter churn, and various kitchen implements. All are estate sale and flea-market finds. My favorites are the butter churn and a 1954 Art Deco Toaster that sits on the kitchen counter and works perfectly.
My collections are safe from dust and accidental damage, but also on display. As they should be; why have them if you can't admire and use them?"