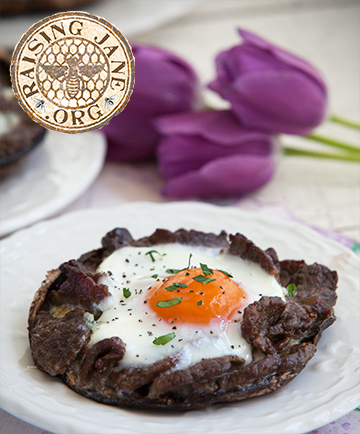 STEAK & EGG PORTABELLO CUPS
PREP TIME: 15 MINUTES
COOK TIME: 28-33 MINUTES
MAKES: 4 SERVINGS
1    T olive oil
½   lb round steak, thinly sliced
½   t salt
¼   t pepper
2    garlic cloves, peeled and minced
4    portabello mushrooms
¼   cup crumbled blue cheese (or if blue cheese isn't your thing, try ¼ cup crumbled feta)
4    eggs
1. Add olive oil, steak, salt, pepper, and garlic to a medium skillet. Cook over medium heat until browned; remove from heat and set aside.
2. Preheat oven to 400°F.
3. Carefully remove stems and gills from mushrooms and place cap side down in a 9" x 13" casserole dish.
4. Evenly divide cheese and steak between mushrooms, creating a nest with the steak to hold the egg. Crack an egg inside each mushroom. Bake for 20-25 minutes, depending on preferred doneness.
Gather ingredients.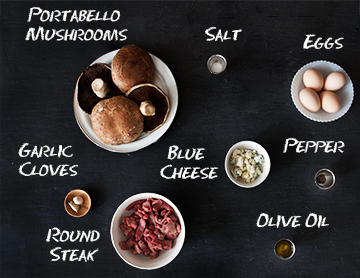 Continue reading →