Walking back and forth between buildings here, one never knows what (or who) might come running straight at you—from chickens, to Rascal, a renegade cow or two, and these days …
… MOOSE. I think our abundant apple crop this year (many still left frozen to the trees) are too much of a temptation.
Most of the time, we simply deer-in-the-headlights one another and go on about our day, but yesterday, one got a little spooked or confused, and came running towards me. The fella below wasn't the culprit, but you get the idea of their size, nothin' you'd want to tango with.
My encounter was a bit ugsome. Ugh. Some "people".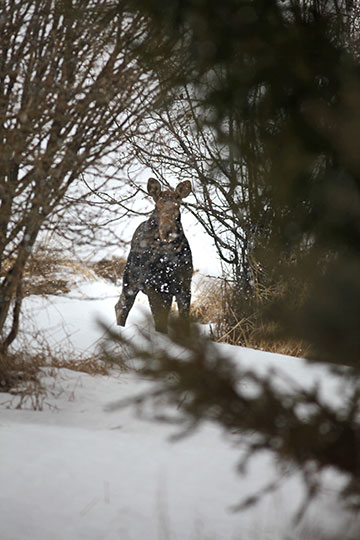 Say it with me: ugsome
(ugg'-sum) adj. frightful, loathsome [from Middle English uggen "to fear, or inspire fear"].