This is the last weekend for our Bed & Breakfast. We had four guests. Alyson Oüten and her sis, Kara, shared a tent. They cooked over the campfire, ate our homemade s'mores, drank wine, and took turns soaking in one of our outdoor bathtubs.
I woke up early this morning to feed my animals and noticed that my pregnant Jersey cow, Maizy, was missing. It was just getting light, so I grabbed my binoculars and scanned the nearby fields (covered in wheat stubble from the recent harvest). There she was, a fair amount away, looking just like an elk or deer. (It's hunting season here.) Not wanting to waste any time, I broke into a run to …
… wrap an orange scarf around her neck—the only thing I could find in a hurry to save her. Why on earth she pushed through the fence without any of her cohorts remained a mystery to me. After I got her dressed in her "Halloween" costume, I came back down for some treats, a halter, and a rope. But I was shaking my head in bewilderment. She had plenty of feed, a warm stall at night, and "her people" close-by. Sooooo not a situation of the-grass-is-greener-on-the-other-side.
Later that morning, Alyson shed some light on Maizy's mystery escapade. As it turns out, cows love marshmallows too. Especially leftover s'mores. And stacks of graham crackers. Oh, and soapy water. BUT poor Alyson and Kara—snug in their bed last night, about to drop off to sleep WHEN a VERY large PANTING animal (she's pregnant and short of breath) stumbled into their campground, slurping water from their tub, knocking over wine glasses and licking plates. "Should we go find MaryJane?" "Not me, I'm not going out there." "Me neither."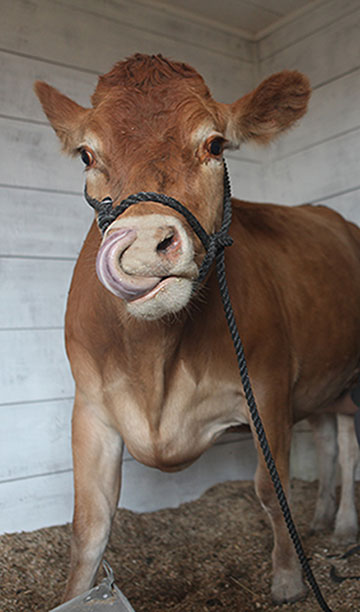 Maizy eventually wandered off looking for … graham-er pastures?