Have you checked the energy use of your lightbulbs lately? I bet you'd be surprised to find you could be saving LOADS on electricity with the right brand. (Plus, you could earn a Cleaning Up merit badge:)
I am head-over-heels for this Philips brand of lightbulb B-E-C-A-U-S-E I have tried and tried to like fluorescent bulbs but I just can't get used to them. I have soooooooo mourned the loss of incandescent bulbs. Guess what? This one COMPLETELY lights like an incandescent. Once it's turned on, you can't tell the difference. Wow. When I first discovered it—talk about exorbitant. One BULB was around $100 dollars. Like any price-minded shopper, I have been keeping my nose to the ground waiting for a price-drop. Last week, it happened. And I brought three of them home.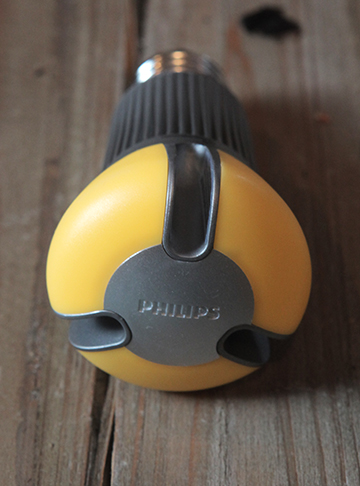 I found them for $25 each at my local lighting store. This bulb is so way cool because it's estimated to have a lifespan of 22.8 years at a rate of being on 3 hours a day.
Some of the perks are:
~Superior life and low energy consumption
~Supplies warm white light
~Discharges virtually no UV/IR light in the beam
~Emits virtually no heat and will not fade colors
~Contains no mercury
Totally worth the money! You can purchase one (or more!) on Amazon or check with your local lighting store like I did.