Wyoming rancher Anita Shepperson found her way into my heart again. (I met up with Anita and friends last summer in South Dakota for a weekend of glamping.)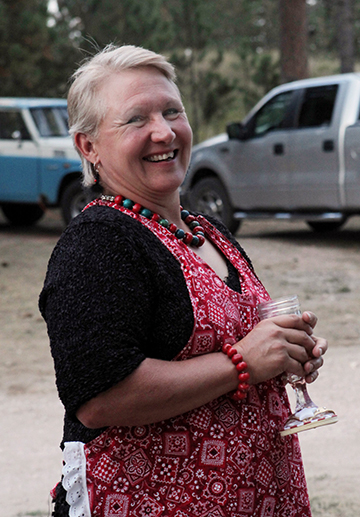 This time, she surprised me with a knitted cowl/neckwarmer and mittens that she'd created using wool from the Rambouillet ewes she raises on her sheep ranch. Fuzzy, warm feelings!!!! Thanks, Anita. They're gorgeous!!! Love.
Here these beauties are modeled by Saralou, our seamstress/crafter. Love the handmade antler buttons Anita used. But of course! Anita makes her own butter and cheese. She also weaves extraordinary baskets and so much more in addition to running a large Wyoming ranch. She's what you'd call self-sufficient to the max.