Bonjour, Mon Cheri! Caviar and champagne dreams await you as our very own Alyson Oüten travels to Sun Valley to sample marvelous cuisine, right in her own backyard! Nestled in central Idaho, the renowned Sun Valley is a destination for cuisine, skiing, horseback riding, golfing, ice skating, snowmobiling, fishing, hot springs, biking, hiking, river rafting, camping, and rock climbing, just to name a few. Lucky for Alyson, she happens to live right around the corner. Unlucky for me, because I'm six hours north and would have loved to have joined her because … I've never in my life tasted caviar. With Alyson nudging me to give it a try, I recently gave it go while on a visit to Portland.
Take it away, Aly!!!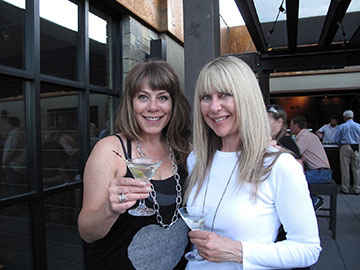 Sun Valley, Idaho has long been a destination location for the rich and famous, as well as a full-time home to lifelong ski bums. While I fall in neither of those demographics, I'm fortunate to live only two and a half hours from the small resort community and make frequents visits.
While the area is renowned for its recreational opportunities, Sun Valley, and the adjoining town of Ketchum, are also rife with art galleries, boutiques, high-end thrift and consignment stores and, of course, gourmet restaurants.
As part of the annual fall food festival, one of those fine establishments hosted a martini and caviar party on its sunny and scenic rooftop patio.
Let's get a couple things on record here: I love martinis. I love caviar.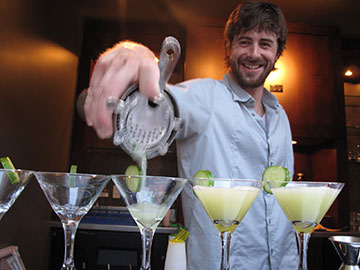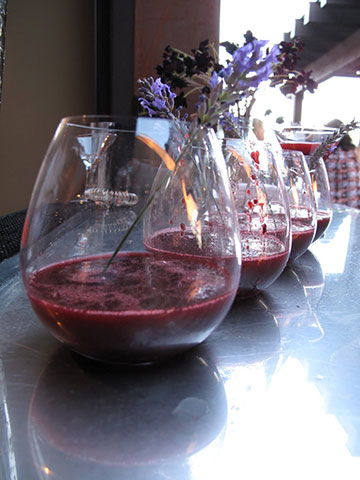 Behind the bar, a couple of handsome fellas feverishly made exotic elixirs for the clamoring crowd; cucumber and melon martinis and lavender infused berry martinis…each mixed with organic vodka.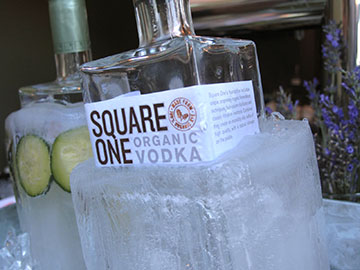 Being the martini simpleton that I am, I requested a plain old vodka martini with olives. Delicious!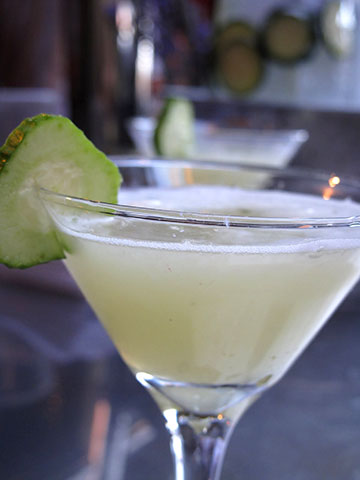 As we sipped our libations, caviar-covered tid-bits made their way around the patio; caviar on toast points,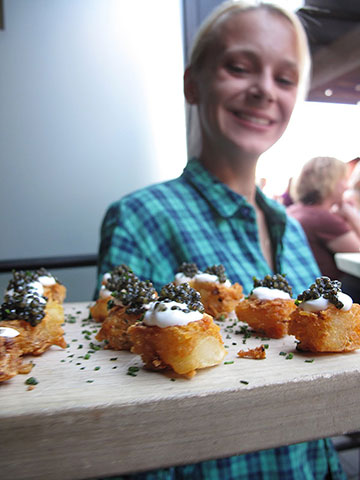 Caviar and smoked salmon;
caviar blinis and caviar-topped crunchy potato cakes.
One of my favorite vehicles for caviar is scrambled eggs, which the restaurant also cleverly served inside an egg shell. You could certainly replicate this fancy presentation at home, but here's the beauty of eggs and caviar (or…eggs with eggs as I like to call it), you can serve a simplified version of this any day of the week and absolutely floor your family or guests. And, it couldn't be easier.
Eggs With Eggs
MAKES 1-3 SERVING
4  eggs
Crème fraiche (or sour cream)
Caviar
Prepare ingredients.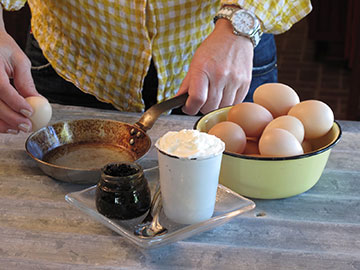 Crack eggs into pan and prepare to your liking.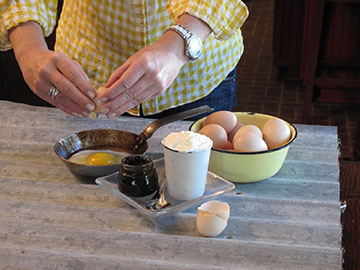 Transfer eggs to halved shells, a or cup for one!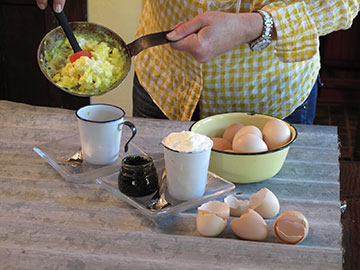 Top with a dollop of crème fraiche (or sour cream)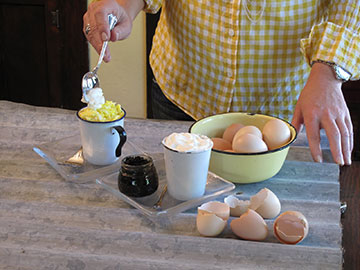 Nestle a small amount of caviar in the crème fraiche.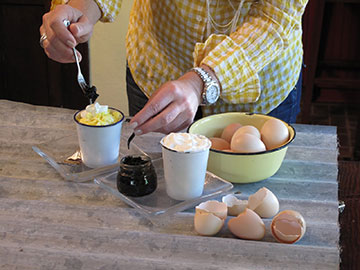 And voilà