This week, I was thrilled to get a box from my dear friend and fellow farmgirl April Choate (Sister #658, sonshine4u). Enclosed were supplies for a project, a video CD, and the following handwritten letter:
Dear MaryJane and Meg,
I'm sitting on the floor in my craft room, buried by my current project of making aprons. It's a glorious place to be! Thread bits and fabric cuttings, hissing iron and shiny shears. I'm having a blast!
The reason I'm writing has nothing to do with aprons, but it does have to do with being a farmgirl. You see, I have had this special project in various stages for over a year. In fact, I was inspired a month after I saw you in Kansas. Anyway, I finished it and can now share it with you.
I made a video tutorial for you, and have some of the supplies for you in the package. The rest, I'm pretty sure you'll have around the farm. Open the package to find out what the fun is!
Much love,
April
I first met April a few years back when I was asked to be the keynote speaker at the Creative Connection Event in Minneapolis. After the event, Megan and I took a hired car and drove for about 45 minutes to April's house, where she hosted a farmgirl chapter get-together that included Farmgirl Beer served by her husband! (I had no idea there was such a thing so I brought my bottle home in my suitcase.)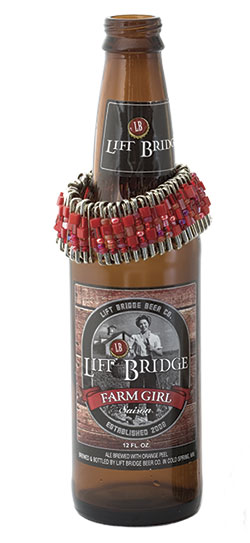 Here's a video of the festivities. (But don't get distracted from making it all the way to the bottom of this post to watch April's surprise video:)
We met up again in 2013 when April hosted a Glampin' Farmgirls on the Loose event that fell on the weekend of my birthday. I like to say I celebrated my 60th the best way possible—with my Sisters! (Read about that
here
 and
here
.)
And now … here is April's farmgirl genius video so you can see what all the henquarters cackling is about.