Many of us are fans of British television. Think Downton Abby, Sherlock, and the recent Dr. Who revival. So I was intrigued to learn about Britain's most popular show, The Great British Bake Off, a reality-based, amateur baking competition that's quickly becoming a cultural phenomenon. Now ending its fifth season, The Great British Bake Off displays none of the hallmarks of American reality television; the majority of the show is set inside tents filled with cooking stations, and the contestants themselves are regular people who just love baking and live in their own homes during the filming of the show.
The biggest difference? There's no prize money. So why do people love it? From what I can gather, the contestants' lack of glamour makes them relatable to viewers. There are no ulterior motives, and because there's no prize money, contestants aren't sabotaging each other to get ahead. And the parts of a baking show you might think would be boring, like waiting for pastry to bake or bread to rise, actually end up building great suspense.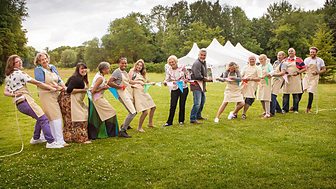 Chief executive Richard McKerrow says, "Bakers are really good people. The very act of what they do is to make something for lots of other people. That makes them really refreshing."
I couldn't agree more, and I hope our American television execs soon take a cue from our British friends across the pond.