Happy Father's Day Weekend!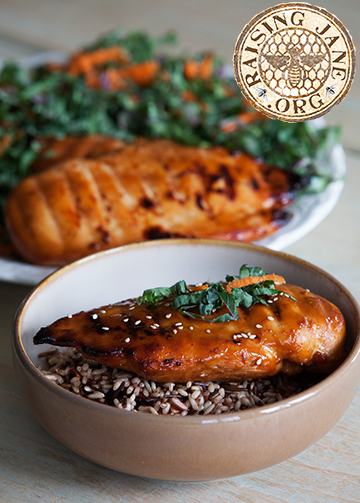 GRILLED TERIYAKI CHICKEN
PREP TIME: 15 MINUTES, PLUS 30 MINUTES COOLING, AND 6-8 HOURS MARINATING
COOK TIME: 35-39 MINUTES
MAKES: 4 SERVINGS
4    garlic cloves, peeled and minced
1    T grated ginger
2    t toasted sesame oil
½   cup mirin
2    cups pineapple juice
4    t cornstarch
¼   cup soy sauce
1    T molasses
½   t salt
4    boneless, skinless chicken breasts
2    t toasted sesame seeds
1. In a small saucepan over medium heat, combine garlic, ginger, and sesame oil. Cook until garlic and ginger begin to brown, about 3 minutes.
2. In a small bowl, whisk together mirin, pineapple juice, and cornstarch. Add to garlic and ginger mixture; bring to a simmer. Once sauce has thickened, remove from heat and stir in soy sauce, molasses, and salt.
3. Remove about ½ cup of teriyaki sauce and reserve for basting while grilling. Let remaining sauce cool down for ½ hour.
4. Place chicken breasts into a medium bowl and pour in teriyaki sauce. Cover and refrigerate. Let chicken breasts marinate for 6-8 hours.
5. After marinating, grill breasts over moderate heat, periodically basting with reserved teriyaki sauce. Cook for 10-12 minutes on each side, or until the internal temperature reaches 165°F.
6. Garnish with toasted sesame seeds and serve with wild rice and shredded kale, if desired.
Gather ingredients.
Continue reading →