Welcome New Sisters! (click for current roster)
Merit Badge Awardees (click for latest awards)
My featured Merit Badge Awardee of the Week is … Denise Meister!!!
Denise Meister (Denisemgm, #1976) has received a certificate of achievement in Stitching & Crafting for earning a Beginner Level UFOs Merit Badge!
"Oh dear, I have a lot of UFOs (but not as many as I had a few years ago!). I've been diligently working at decreasing my UFOs, particularly with fabric and yarn.
I put several different projects in designated bags with the right supplies and patterns. I made a list that I can check off when I finish a project, and I try to spend some time every day working on a project (whether it's bringing my knitting with me when I'm waiting for my kids or whether I dedicate an afternoon to getting something done).
Lists are always good, but here are my two major lessons:
1) Don't buy supplies "just because"—only buy supplies needed to finish what you've already started. (Admittedly, this is sometimes hard advice to follow, but it also helps me not to get distracted in my favorite stores—especially when I tell my daughter not to let me get more stuff!)
2. If you're not still in love with the project, it's okay to pass on the supplies on to another person or to a thrift store. I find that when I finish UFOs that I'm not passionate about, it becomes a little bit of a waste of time because I won't really use/cherish what I just spent all that time making. So I pass it on and focus on UFOs that I still really love!"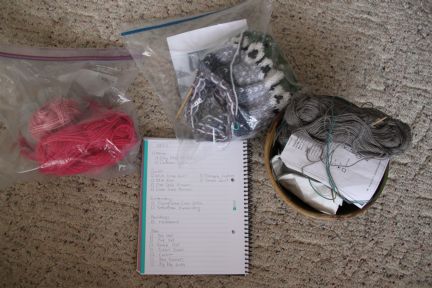 Continue reading →