Yes, winter is still here …
hunkering down,
getting cozy,
settling in for the long season's nap.
But …
Some of us still hanker for the harvest,
even in December …
and January.
More than ever in February.
I'm always grateful for little tokens that remind me of the earth's bounty,
show me that sweet spring glimmer at the end of the tunnel.
Sometimes it's a stray seed I find hiding in a corner of the kitchen floor.
How did it get there?
Often, it's the brilliant color beckoning from a jar of summer-canned raspberries.
When I'm feeling really lonesome for soil and sunshine,
I get my fix listening to Stephanie Davis' "Talkin' Harvest Time Blues" …
So, you fix a cup of cocoa, sink into your favorite chair
Put your feet up and you thumb through the pictures and compare
Big Boys, Better Boys, Early Girls, Romas
The latest disease and drought-resistant hybrid.
But this year, I've stumbled upon something new, and I'm thinking about an after-Christmas gift to myself:
The Garden Deck is totally playable but with sophisticated know-how fun for plant lovers. Gin rummy anyone?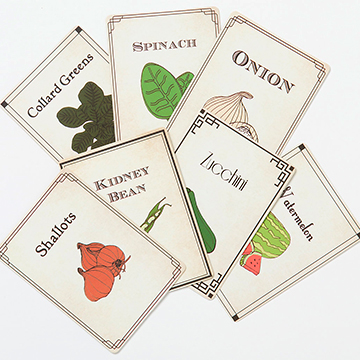 No ordinary deck of cards, this baby contains 52 beautifully illustrated cards (they look like seed packets) that contain key tips on how to care for a garden, when to sow and when to harvest, and facts like how many days until maturity, how many square feet are needed for a large variety of plants, and so on.
It doesn't matter a lick that I'm a seasoned gardener.
This is about feeling all giddy and garden-y
in spite of the snow on the ground.
Double solitaire anyone? I'll bet my (garden) cards trump yours?