Karina's Valentine's Day gift came early this year when her boyfriend, Adam, asked her out for a nice dinner, followed by a movie in downtown Moscow at one of our historic, renovated movie theaters.
When they arrived at the restaurant, the hostess seated them at a quaint little table for two. Soon after, their waiter came with a bouquet of flowers for Karina and set them on the table. They ordered their food, enjoying every bite and morsel of conversation. (Ah, young love.)
After dinner, they parked across the street from the movie theatre and walked through the doors. There were a few people at the front selling drinks. One gentlemen told them that they were the only people who had shown up for the movie so far (not uncommon in our little town). He followed up by saying he would get it started right away. They sat down near the middle of the theater. The lights dimmed and up popped a picture of …
Adam and Karina on the screen. Music started and then a video Adam had made began. The first words said: "While you were growing up in the East, I was growing up in the West." It continued like that, a mini-movie-documentary about how they each grew up and came to meet each other. The last part of the video said: "While you are sitting here wondering, is this really happening, I was …"
Adam grabbed Karina's hand and they stood up together. As soon as Karina was standing, still holding her hand, he kneeled down and asked her to marry him. Without hesitation, Karina said YES! and wrapped her arms around him.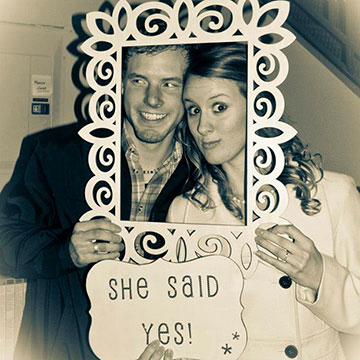 Right after, he told her to look in the balcony behind them. She looked up to discover that they were blessed with the presence of his family, her mother, her two best friends, and a some of their mutual friends. Afterward, they went to the lobby for a celebration.
When they walked outside to their car, Adam pointed out to Karina what they'd put on the marquee while they were inside. "I love you Karina."
It was the perfect night!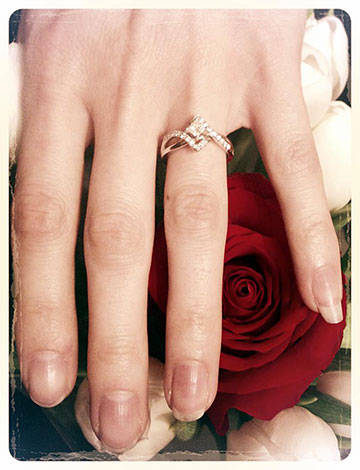 In September, when she moved to Moscow to work as a graphic designer here at my farm, little did she know that only a day after she moved here, she would meet the man who quickly became her best friend, then the love of her life, and now her fiancé.
Don't you just love all the happiness that surrounds a marriage proposal? I do.