Hubby and I hosted the MaryJanesFarm annual holiday party this past weekend. That night, curled up in bed together, we relived some of the many uplifting vignettes that soooooooooo warmed our hearts as we played a made-up game that was …
… one part charades, one part Pictionary, and two parts Cranium … but with a decidedly farmish slant.
With gratitude for each of our co-workers, we fell asleep feeling like everything in the world was perfectly right, for that night at least—honey, hold me tight. You know the feeling. When it hits you, you know to soak it up.
Each guest was asked to bring a gift to exchange, upcycled only, and an appetizer to share.
After too much laughter and some great games, everyone filed out with silly gifts like mustache-shaped cookie cutters and singing clocks.
A successful night! But I was left with a random etiquette question.
When attending a potluck party, do you leave the food you brought or take it?
After some research, there is quite the debate out there. Some say always leave your dish, it is offensive to take something back that you have given your hostess. Some say never leave it for the hostess to have to deal with, clean up, find room in the fridge for. Some say it depends on when you leave the party. If you have to depart early, leave your contribution for the other guests to continue to enjoy.
But I think the overall, overriding etiquette notion is always offer to leave your contribution for your hostess. Let her decide. If she loved what you brought, she might tell you she'd love to keep it. If she has five platters of cheese, she might say it's yours for the taking.
I do know this. If there had been any more of what Chelsea, our Merit Badge Coordinator, brought, still sitting on the table at the end of the evening, I would have begged for the remains—a completely simple, yet yummy, and pretty appetizer. Perfect for your next holiday potluck!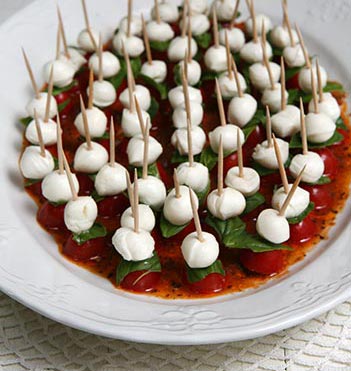 Chelsea's Caprese Canapé
Italian dressing
toothpicks
mozzarella pearls
fresh basil leaves, torn into small bits
grape tomatoes, halved
1. Pour enough Italian dressing to cover the bottom of serving platter,
2. Onto each toothpick, stack one mozzarella pearl, one piece of basil leaf, and one half of a grape tomato with the sliced side facing down so the toothpick will stand up.
3. Place assembled hors d'oeuvres onto serving platter.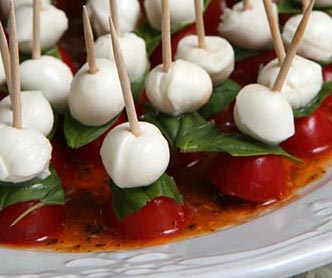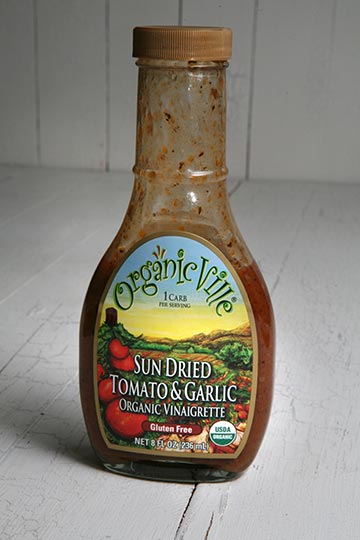 Back at work on Monday, mom and I put on our ho-ho-ho voices and delivered bags of cheery, local goodness to all of our employees—the Idaho organic wine featured in the current issue of MaryJanesFarm magazine, local dried apples, and some of our Idaho-made organic chocolate. We wish our employees a VERY Merry Christmas!!!