In the Dec/Jan issue of MaryJanesFarm, "All That Glitters," I led you here to my daily journal for a chance to win a special giveaway for some cute mittens, re-fashioned from sweaters purchased from charity thrift shops by The Mountain Mitteneer (Mountain Mitteneer.com).  Thank you to all who participated by leaving comments, and stay tuned for more giveaways in each issue of MaryJanesFarm. If you're not yet a subscriber to MaryJanesFarm, subscribe here for $19.95/year.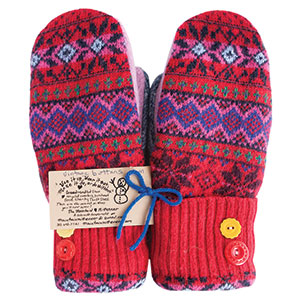 The winners of our "Mountain Mitteneer, All That Glitters" giveaway are:
Barb Langlois (green pair)
Diann (red pair)
Paula (pink pair)
Laura McGeorge (children's)
Congrats, ladies!