Ghoulies, groovies, I was working in my lab (greenhouse) one night when my eyes beheld an eerie sight.
My monster carrot from her slab (garden trough) began to rise,
and suddenly, to my surprise …
she did the carrot mash,
it was a gravy smash!
the scene was rockin' while I was diggin'
the Zombies
were having fun, the party had just begun.
She did the mash. (The vocal group was the Crypt-kicker Thighs.)
She did the mash. She did the monster carrot mash.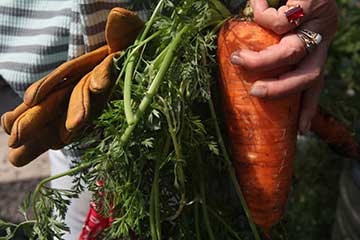 Wanna compare carrots? Mine's a whooper. Does anyone have a Transylvanian Twist? Show me yours, and if it tops mine I'll…
I haven't decided yet.
What would be inappropriate? Or do you carrot at all what I choose? How about this adorable monster squash?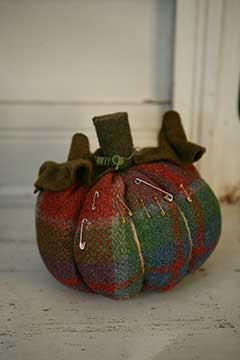 Come on, show me yours.
I showed you mine.
ROOT MASH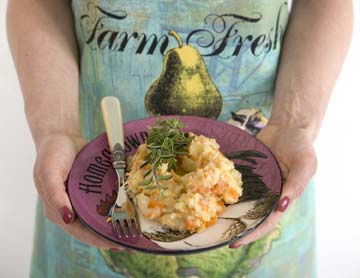 Tip: Whenever possible, don't peel your root crops. Many nutrients are found in, or just under, the skin.
Ingredients:
5 medium potatoes (approx. 1 1/2 lbs.), cut into 2″ pieces
3 parsnips, cut into 2″ pieces
1 turnip, cut into 2″ pieces
3 carrots, cut into 2″ pieces
3 cloves garlic, peeled and minced
6 T butter
1/4 cup half 'n' half
salt and pepper to taste
Directions:
Bring a large pot of water to boil over high heat.
Add vegetables, return to boil, and reduce heat to medium. Cook vegetables just until tender, about 30 minutes. Drain and return to pot.
Add butter and mash until smooth. Stir in half 'n' half. Season with salt and pepper.