If you've ever had someone offer you a handshake with the same hand they just coughed into, you know where I'm going with this.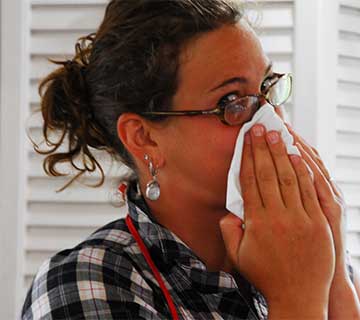 Good manners matter most, practically speaking, when we feel like practicing them the least—that is, when we're sick as dogs. Believe it or not, there are established niceties for sneezing sweetly, coughing considerately, and conversating without contaminating.
We recently had some kind of alien chest crud spread through my employees like wildfire. Hardly anyone was spared. When I realized it had finally got the better of me, my alarm clock had just gone off at 1:30 am because I was scheduled to leave for the airport at 3:30 am to fly to Anaheim, California. After a sneezing fit and the tickle in my throat turning into a dry cough and my head about to split open, I thought, "I'm not that sick. I can take some aspirin and still get on that plane." But then I pictured myself attending my scheduled back-to-back meetings with magazine advertisers at the Natural Products Expo Show. And I mustn't forget the vow I made as I flew to Chicago sandwiched in between two large fellas who coughed and wheezed and sneezed the entire time.
I picked up the phone to cancel everything. First, Delta Airlines. Next, the hotel. Because I wasn't cancelling with a 24-hour notice, I told the hotel clerk, "I woke up sick. It's a chest thing that my employees have all had." He said, "Oh, yeah, that passed through our staff. Headache and a dry cough?" I said, "Yes, that's it exactly." He said, "Two weeks. All of us were wiped out for two weeks. Go back to bed. No charge."
If you're in the first hours of a bacterial or viral infection, you're super contagious, especially if you have a fever. If you're coughing and sneezing severely enough to interrupt others around you, don't go to work (in fact, you'd be guilty of presenteeism if you did). If it's impossible to avoid people altogether and crawl back into bed, take precautions to avoid infecting others. This includes members of your family. Cover both your mouth and nose with a tissue or a fresh hankie when coughing or sneezing. In elementary schools, they teach children to "cough into their beaks" (the inside corner of their elbow). Wash your hands constantly, and disinfect any shared surfaces, like a phone, after you've used them. Here's the non-toxic disinfectant I use for travel and home.
How do you practice good manners when you're sick or coming down with something? And when you're exposed to sickies at the workplace or in social situations, what tips do you have for avoiding their sniffles?