You say, "potato," I say, "adorable!"
Or at least that's what I said when I saw these baby munchkins for sale at our local co-op.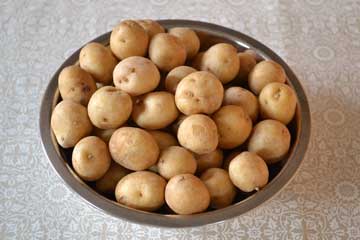 Not quite catching my case of the cutes yet? Have another look: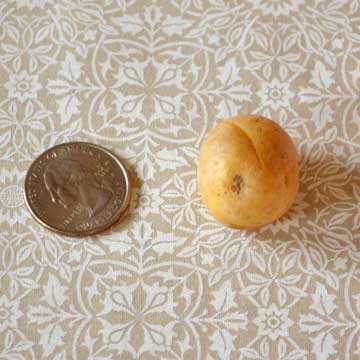 Yup—they're eensy-weensy, teeny-tiny potatoes. And since some of you are already getting your seed catalogs and dreaming about summer gardening, I just had to share my need-something-easy, not-in-the-mood-to-cook cheesy potato recipe with you.
After all, the potato (AKA "spud" or an "earth apple") has been the victim of some seriously misguided criticism. In the last 15 years, we've heard potatoes blamed for everything from obesity to diabetes to heart disease. Now that we've all had a moment to lose our heads over this misinformation, it would seem that nutritionists are finally combating the rumors and praising the almighty spud for its nutritional value. Go figure—six million Irish could've told us that! (Or 1 million Idahoans.)
Now, no one in their right mind would go on a potato-only diet, but I will say this: they're nutritious, tasty, easy to prepare, and kid-friendly. They'd be the single most important survival crop to grow at home if there were food shortages.
Do you grow a particular variety of potato? Our favorite is the Desiree. It isn't prone to disease, so every year we plant some from our previous year's crop. It's been years since we've purchased seed potatoes.
Here's a shot taken last June of our Desiree potatoes that had been in storage for nine months already. They're still looking pretty good and tasting even better. In fact, we were getting ready to serve them to our summer B&B guests when I snapped this photo.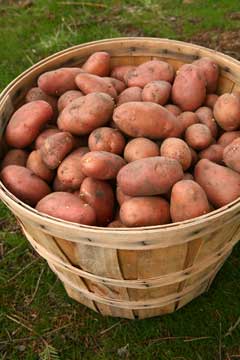 Potato & Ham BakeOver
4–6 servings
Ingredients:
3 cups potatoes cut into bite-size pieces, or whole tiny, baby potatoes
1 cup pre-cooked ham, cubed
¼ cup chopped onion
½ t sea salt
1 T fresh thyme or 1 tsp dried
¼ t nutmeg
¾ cup shredded Gruyère cheese
3 T butter
½ cup water
Directions:
Preheat oven to 425°F.
Place Budget Mix in a medium bowl.
Cut in butter with a fork until mixture resembles coarse crumbs.
Gradually add the water, stirring with a wooden spoon until a sticky dough forms.
Turn the dough out onto a lightly floured surface. Roll or pat out a 9-inch crust.
Sauté ham, onions, potatoes, salt, thyme, and nutmeg in butter or oil in your Perfect BakeOver skillet for 10 minutes or until potatoes are slightly soft.
Sprinkle the gruyere on top. As your BakeOver cooks, the cheese will melt throughout.
Place the dough on top of the meat and vegetables, still in the skillet, like a pie crust.
Bake for 20 minutes, or until golden brown.
Put a plate face down over the BakeOver and then just flip the contents upside down. Enjoy!