Mark your calendars, farmgirls …
National Pie Day is on the way!
If you LOVE pie,
(and who doesn't LOVE pie?),
Then set aside January 23 for some serious pie time.
Pie time?
What sort of pie time?
What can a pie partisan do to prove her piety?
Well, she can start by asking a true patroness of pies, a woman who has elevated crisp crusts and gooey goodness to an art form:
Christine Hoffman.
Known as the premiere "style maker and pie baker" of Minneapolis, Christine is the positively unpretentious hostess of Pies and Aprons, her online journal dedicated to all things home …
and all things pie.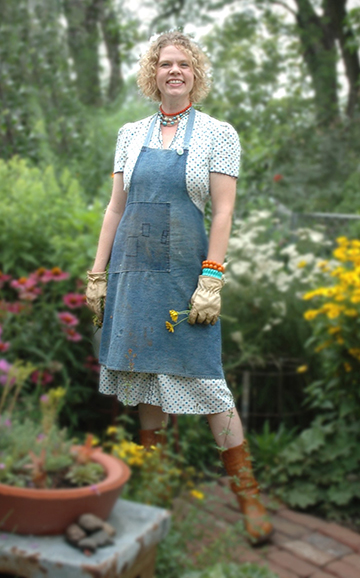 "I believe that a piece of pie and a cup of coffee will cure most ills," says Christine, who had declared every Friday on her website "Pie Day" (88 entries and counting).
Who knows? This old-fashioned kitchenista may just save the planet—one slice at a time.
So, back to our question:
How does Christine suggest we pay homage on National Pie Day?
"What a perfect excuse to snub our nose at ol' man winter," she cheers. "Gather somewhere cozy, and bake, share, eat, or just dream about pie!"
A few of her favorite ideas for celebrating include:
Bake a pie.
Sing along with the "Pie Song" from Family Guy.
Make a pie chart mapping your favorite pies.
Watch Sweet Land—it has a pie sharing scene that will make you smile.
Hand out slices of pie.
Host a pie swap.
And, if nothing else, patronize a local pie shop.
Of course, if you're in Minneapolis on January 23, join Christine for a special Pie Day dinner at the Grand Café (tickets and info here). The Café will offer a prix fixe menu featuring pies created and baked especially for the event by Christine herself. Imagine …
Chocolate Chess, Honey Bourbon Apple with Rosemary Whip, Salty Honey—oh, my!
Oh, PIE!