Happy Gluten-Free Day!
Well, around here, at least. Today I'm giving you a recipe for the most gluten-tastic snack I can think of—breadsticks—except you get to eat them anxiety-free.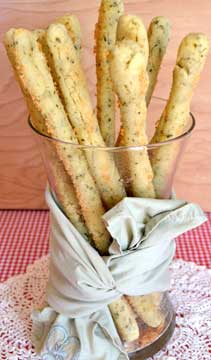 Mmm, the sheer pleasure of a toasty, cheesy breadstick dipped in warm spaghetti sauce… the Italians sure know how to live. They also know (and worship) their gluten.
But a little sleight-of-hand and a few minutes in the kitchen will cut back on the amount of gluten your family eats, just in case too much gluten is the culprit for a child becoming intolerant to it. And I've yet to meet a pint-sized eater who didn't love these dippable crunchables.
But before we wrap up our chat and I hand over my much-loved recipe card (pardon my handwriting, I was in a hurry…and don't bother over that strange stain, it's just spaghetti sauce), I wanna give you something.
Oh, please, no thanks necessary! It's just something little. Since I know I can't do it all for you GF girls, I thought I'd direct you to those who can.
Now pull that ribbon (gray velvet with a sprig of lavender)…
Read the gift tag (To: You, Love: Meg)…
Tear open the paper (it's recyclable!)…
And voila! A list of the best gluten-free recipe blogs I've found! Open up that blog feed reader and give your click-y fingers a stretch—I have a feeling you're about to make a whole buncha new friends:
Enjoy! But first, tell us: did I miss any good ones?
Gluten-Free Italian Bread Sticks
Makes 12 bread sticks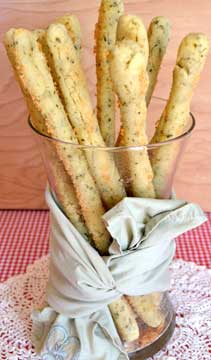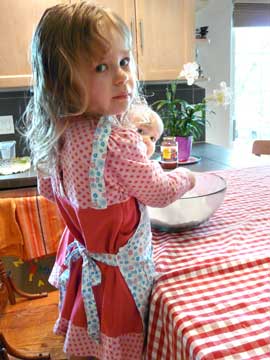 Ingredients: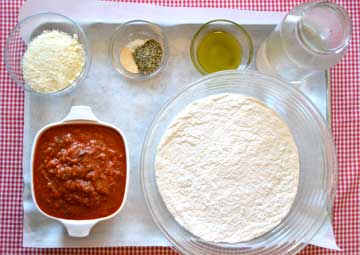 1 t sea salt
2 T olive oil
1 ½ cups warm water
1 T dried Italian herbs
1 t garlic powder
¼ cup Parmesan cheese, grated
2 cups spaghetti sauce
Directions:
Preheat oven to 425° F. Lightly coat baking sheet with oil.
In a large bowl, blend Budget Mix, salt, garlic powder, and herbs, and make a depression in the center of the mix to receive the liquid.
In a separate bowl or container, whisk together the oil and water.
Add the liquid ingredients to the budget mixture and stir with a wooden spoon until blended and dough is formed.
Divide the dough into 12 pieces. Roll each piece into a tube shape and transfer pieces to your prepared baking sheet. (Little fingers don't always get the long tube thing.)
Moisten each piece with water and then sprinkle with cheese.
Bake for 17 minutes, or until breadsticks are golden and cheese is deeply toasted. Rice flour doesn't brown the same way as wheat, so watch that cheese!
Serve with dipping sauce.