It's that time of year again—time to pear down and eat cake!
Brandied Pear Upside-Down Cake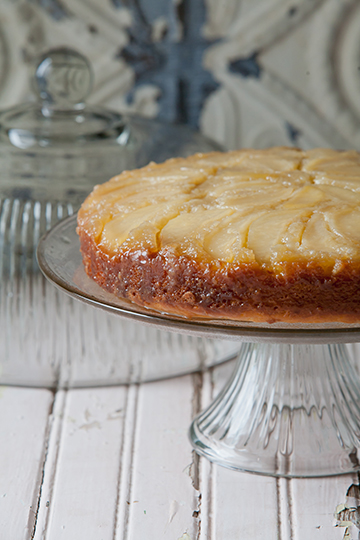 PREP TIME: 1 HOUR
BAKE TIME: 45 MINUTES
SERVES: 8
CARAMEL
1    cup sugar
¼   cup water
4    medium Bosc pears, cored, peeled, and sliced
CAKE
½    cup butter, softened
¾    cup sugar
2     eggs
2     cups Organic Budget Mix® All-Purpose Original Baking Mix
2     t baking powder
2     cardamom pods, seeds removed and ground
1     cup buttermilk
1     t vanilla
GLAZE
1     T sugar
1     T water
1     T brandy
*Special Equipment: 10" spring form pan and parchment paper*
1. Preheat oven to 350°F.
2. Butter spring form pan, and place a piece of parchment paper in the bottom, and butter the top of the parchment.
3. To make the caramel, combine the sugar and water in a 2 qt. saucepan. Gently stir to dissolve the sugar. Bring to a boil over medium heat, and let boil undisturbed until the color deepens to the color of light caramel—about 6 minutes.
4. Pour the caramel into the spring form pan, and gently tap the pan on the table to evenly distribute the caramel. Arrange the pear slices on top of the caramel in a spiral pattern.
5. In a stand mixer, or bowl with an electric mixer, beat the butter and sugar together until mixture is light and fluffy.
6. In a medium bowl, combine the Budget Mix, baking powder, and ground cardamom seeds. Set aside.
7. In a small bowl, combine the buttermilk and vanilla.
8. Continue to beat the butter/sugar mixture at medium speed, and begin adding the Budget Mix mixture and the buttermilk mixture in turns, beginning and ending with the Budget Mix mixture. Periodically stop to scrape the bowl.
9. Pour the cake batter into the prepared spring form pan. Place the spring form pan onto a cookie sheet to catch anything that might spill out during baking.
10. Bake at 350°F for 45 minutes, or until a toothpick inserted into the center of the cake comes out clean. Immediately transfer pan to a wire rack to cool.
11. Once the cake has cooled completely, run a knife along the side of the pan to loosen the edges. Invert the pan onto desired serving tray and open the sides. Carefully remove the bottom of the pan and the parchment paper.
12. To prepare the glaze, bring the water and sugar to a boil, stirring to dissolve the sugar. Once the mixture is boiling, add the brandy and cook for an additional 3 minutes. Brush over the top of the cake to give it a nice sheen. Serve with whipped cream or Coconut Bliss (non-dairy ice cream).