Go ahead and say it. "She's weird." Of all the yummy things I could eat for breakfast, I have a favorite that I've been eating, ummm, pretty much almost every day lately. (I do ruts well.) On days when I feel like I have a bit more time for prep, I double the amount I make so I can eat it for lunch or dinner later that day with maybe some baked chicken breast or smoked kokanee (from the Okanagan language referring to land-locked lake populations of sockeye salmon—thanks to my husband, who put a winter's supply in our freezer).
"What is it?" you ask.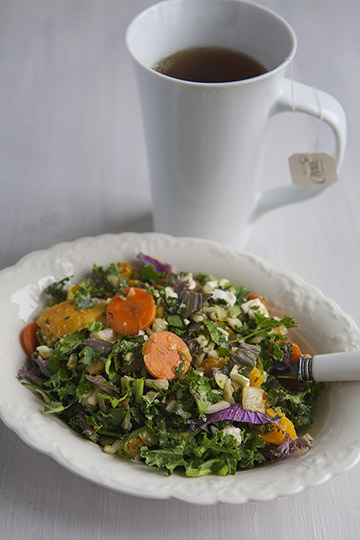 My breakfast starts in the chicken coop. Even though it's still early out, my hens have eggs for me. (I'm probably eating an egg laid the day before but this time of year it's cold enough to leave the eggs until my morning visit to the coop.) After feeding my girls, I head next door to my year-round greenhouse (really an unheated hoop house that's still supplying us with summer-y things like green peppers and lettuce) to grab a pocket full of kale, some arugula, one carrot, some parsley, and a sprig of rosemary.
Back in my kitchen, I drop the egg into a saucepan on the stove for a soft-boiled egg. While that's cooking, I chop the greens and herbs up along with 2 cloves of fresh garlic and one apple. Slices of carrot go in next and then a few spoons-full of baked butternut squash. (I cook a butternut squash every week to add to just about everything I eat—love that stuff!) Last comes a big dollup of what's known as the guardian of intestinal health, sauerkraut—the real deal, not the pasteurized store-bought stuff.
With a cup of plain white tea in hand (sometimes I add a bit of fresh cream straight from my cow), I sit down to eat my power breakfast—all of it homegrown. Savory for breakfast? You bet. Sauerkraut? I actually go to bed at night excited to wake up the next morning and eat it all over again. I warned you. Weird. But hey, if you're up for trying it, I think you'll agree, yum! Oh, and HEALTHY (all in CAPS with at least ten exclamation marks)!!!!!!!!!!