I could live on butternut squash. I have my Airstream's floor covered in our winter's supply. (I keep my Airstream just a few degrees above from freezing, tucked away in the back of my barn—perfect for storing squash.)
How about you? What's your favorite winter squash? My mother's was "old mother Hubbard" squash. I remember her breaking them open during the winter with a small axe. She was probably growing what is now called the Blue Hubbard Giant Heirloom Squash. The hubbard she grew were huge—much bigger than a baby! Once she opened one up, it lasted for several meals. We often ate a section after it was baked with just butter, salt & pepper.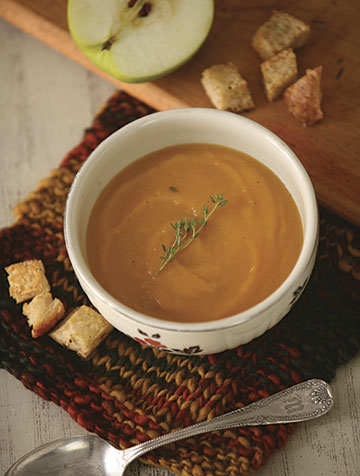 Butternut Squash Soup
Sauté 1 diced onion and 2 cloves minced garlic in 2 T butter. Add 4 cups cooked butternut squash and half a Granny Smith apple, diced. Add 3 cups vegetable broth, 1½ cups apple cider, 1 t minced fresh thyme, 1½ t salt, and ½ t black pepper; bring to a boil, then reduce heat and simmer for 30 minutes. Purée. Serves 6.