If I have to run errands in town, I make it a point to show up on my daughter's doorstep at the very moment my granddaughters are ready to be tucked into bed so that I'm the one who gets to read them a bedtime story.
Last week, Meg and I discussed that I'd be stopping by, so she reminded me, "Make sure you get here right at 7:15 so they get to sleep on time." I arrived a few minutes early, so I decided to wait in my car until the exact moment of 7:15 (my arrival often sets other things in motion besides jammies and brushing teeth:)
I was looking down at my Blackberry when something (someone?) knocked on the door of my Jeep. I couldn't see anyone, but then I heard two little people yelling, "Nanny, open the door!" Stella and Mia (not in their jammies yet) were ever so excited to have me … eat bedtime pie with them (no matter that it was past their bedtime).
As it turns out, Meg decided too-late-in-the-day to make a pie with the fresh fruit I'd sent home the day before (left over from a photo shoot). Lucas, Meg, the two girls, and I DEVOURED most of a warm pie. The flavor was extraordinary, and it wasn't because it was flavored with so much family love; truly, she'd built a magnificent pie. Here's her improvised ("I didn't have all the ingredients I usually use") recipe that's a keeper as is—happy accident.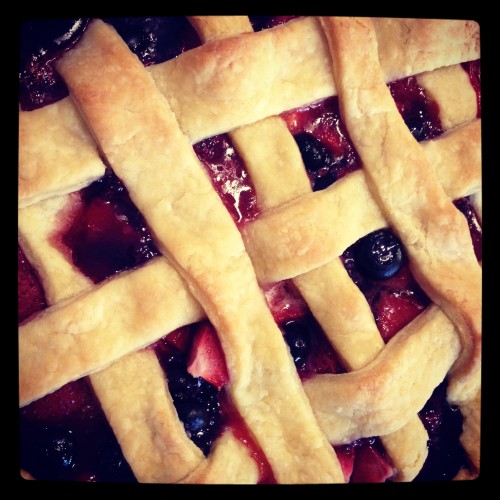 Megan's Berry Pie
Simple Crust
2        cups flour
1/8     t salt
1/8     t sugar
1        cup (2 sticks) cold butter
1/2     cup cold water
Filling 
1        cup fresh blueberries
4        cups fresh strawberries, quartered
1/2     cup sugar
3 1/2  T cornstarch
1        T fresh lime juice
1        T salted butter, cut into small pieces
1. Make crust: Mix dry ingredients in a medium bowl. Working quickly to prevent softening, cut in butter with a pastry cutter or two knives. Add cold water and mix just until the dough sticks together.
2. Roll half the dough to fit into a 9-inch pie pan; trim the overhanging dough.
3. Position a rack on the lower third of your oven with another rack just beneath it. Preheat the oven to 425°F.
4. Combine filling ingredients and let stand for 15 minutes.
5. Pour filling into prepared crust and dot with the 1 T butter.
6. Brush the edge of the bottom crust with cold water. Roll out the remaining dough and cut into strips. Cover the pie with a lattice top.
7. Bake for 30 minutes. Slip a baking sheet beneath the pie on the lowest rack, reduce oven temp to 350°F, and bake 25–35 minutes more.
Serve slightly warm. Also delish the next morning straight from the fridge (or so I'm told).