Have you heard of Brandon Stanton? How about Humans of New York, or HONY, as people like to call it in these modern days of BFFs and LOLs? HONY defines the most beautiful aspects of our current social media craze. A year ago, I shared a glimpse of Brandon's story. Brandon spends most of his time on the streets of New York, photographing and telling the stories of people he meets there, which he then shares on his blog and Facebook.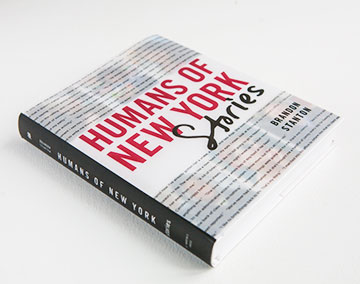 What began as a photo census in 2010, whose purpose was to chronicle neighborhoods and communities through the faces of people who lived there, has now grown to a well-known presence on the Internet whose posts reach more than 15 million followers each day. Last year, Brandon traveled to 12 different countries in collaboration with the United Nations, was invited to the White House to interview President Obama, spent a month in Europe documenting and sharing the story of Syrian refugees, and was named as one of the 30 most influential people on the Internet by Time magazine.
It seems that people are very interested in hearing compassionate tales about the lives of their fellow people. I know it's my favorite snippet that passes through my Facebook newsfeed. And even though the posts are often short and sweet, I am usually in tears hearing the personal stories of so many. It is always good to be reminded of different perspectives and what people are surviving and accomplishing each day. So, I've been so looking forward to Brandon's latest compilation of beautiful photos and stories of his subjects in book form! Once I've read it front to back and then back again, I plan to adorn my coffee table with it for all others to peruse, should they have a few minutes.
And since I can't have you all over for tea alongside my coffee table and copy of HONY, I'm giving away a copy. Tell us in the comments section below what touches you most about the HONY story and we'll randomly choose a winner sometime soon.