In the next issue of our magazine, "Imagine a Place" Oct/Nov 2011, we're featuring the adorable, traditional, much-loved Sun Bonnet Sue.
This handmade tablecloth, 35 inches x 35 inches, could be yours for $18. We'll throw in a copy of "The World According to Mister Rogers (Important Things to Remember)" by Fred Rogers.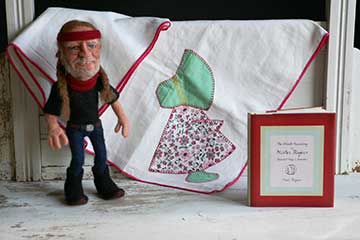 Going, going, GONE?
Just an FYI: As I was prepping this for its new home (hand washing and ironing), I noticed for the first time that for sure this was made from flour sacks because on two sides as you approach the hand-crocheted edging, you can still see the stitch lines and selvage edge from when it once held flour.
All proceeds (minus shipping and packing) benefit www.firstbook.org, a non-profit that provides new books to children from low-income families throughout the U.S. and Canada.
"There is something unique about being a member of a family that really needs you in order to function well. One of the deepest longings a person can have is to feel needed and essential." -Mister Rogers