New to our neighborhood, we were invited to help our neighbors close down the street, lug grills and lawn chairs up the culdesac, and enjoy a good old-fashioned get-together.
Everyone brought their own drinks and meat for grilling along with a salad or dessert to share. We filled up on food … and gossip. In her book, Dakota, Kathleen Norris said, "… gossip done well can be a holy thing … It can strengthen community bonds. Gossip provides comic relief for people under stress … Gossip can help us give a name to ourselves."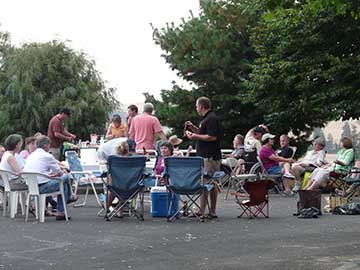 The kiddos rode bikes.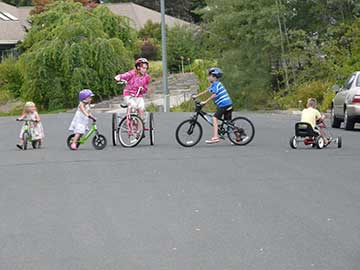 Who knew?! Stella's favorite new friend she made during her summer t-ball season is our neighbor! His parents moved in this past spring.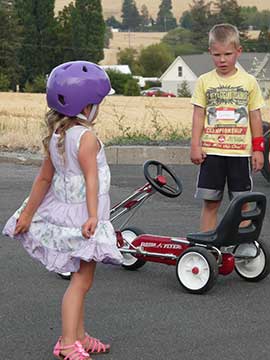 Stella even talked him into letting her try out his cool Radio Flyer scooter.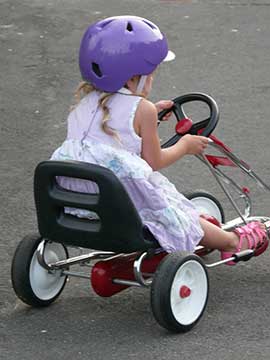 It was a wonderful evening and Stella exclaimed (after noticing my mostly empty salad bowl), "They ate it!" as if it were a completely foreign concept to bring a SALAD to a potluck and have everyone eat it.
In the mood to share more secrets, here's one: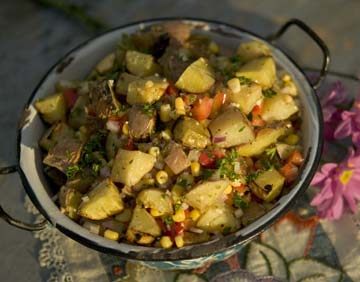 Southwestern Potato Salad
MAKES: 6 servings
Ingredients:
6 cups cooked potatoes, cut into 3/4″ cubes
1 cup fresh corn, cooked and chilled
1 roasted red pepper, chopped
1/4 cup red onion, finely chopped
2 cloves garlic, minced
2 T cilantro, finely chopped
2 T olive oil
2 T red wine vinegar
1/2 t salt
pepper, freshly cracked