In the Oct/Nov issue of my magazine, "Attitude of Gratitude", we put our home-grown, hand-dyed woolgirl on a swing that is part of a handmade basket 10 inches in diameter.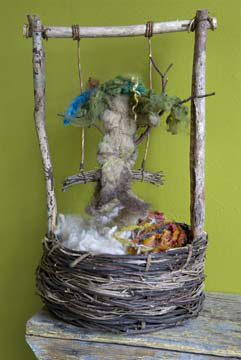 $6.50 plus shipping for this find! (Offer doesn't include our woolgirl or her stash of wool "clothing" in the basket.)
All proceeds (minus shipping and packing) will benefit www.firstbook.org, a non-profit that provides new books to children from low-income families throughout the U.S. and Canada.
The first person to call the farm and talk with Brian, 208-882-6819, and pony up a credit card, becomes the new owner of a little bit of herstory. Shipping will be either USPS or UPS, our choice. No returns.
Willie wanted one more session on it before it went to its new home.