"There are no shortcuts to any place worth going."
Can I get an amen?
This little phrase carries a big ole' punch that our grandmothers and grandfathers understood all too well. When they were kids, learning took place in schools, libraries, at home, with parents, on the job, and from teachers who implored them to turn the pages of a book. Had a question? Pre-Google era.
If you're reading this and were born before the World Wide Web, you know what I'm taking about. Remember the times when you used to have to ask people for directions, or, heaven for bid, deconstruct an address? No GPS, or Tom Tom's then! Holy moly. How did we ever survive? This cute metal enamel sign with metal chain can be your reminder of slower times. $5 plus shipping.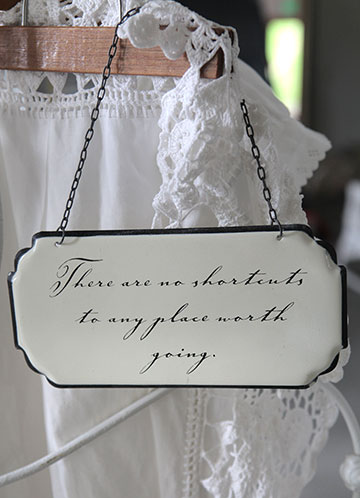 All proceeds (minus shipping and packing) will benefit www.firstbook.org, a non-profit that provides new books to children from low-income families throughout the U.S. and Canada.
The first person to call the farm and talk with Brian, 208-882-6819, and pony up a credit card, becomes the new owner of a little bit of herstory.
Shipping will be either USPS or UPS, our choice. No returns.