This is it, my glorious glampin' darlin's! Our last giveaway of my new book, Glamping with MaryJane.
We all know how things can go … umm … not-exactly-as-planned when you're on the road. Flat tires, problematic potty situations, the wrong color nail polish. Stuff happens!
For instance … let's say you're on the road for 12 days (living large in your tricked-out Airstream) and your
… printer has an accident such that you have to wait to announce the last two book winners until you get home. Oh me, oh my.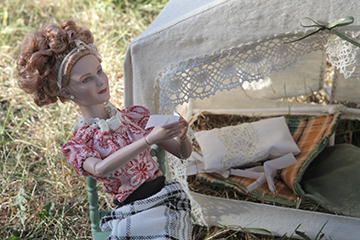 MBA Jane, being the doll she is, took care of this one for me ladies. As you can see, she slept on it, quite literally, then picked two lucky winners from under her pillow. Kind of like the glampin' fairy. (Notice the 'her size' glamped-out tent she resides in on our trips.)
You all had such hilarious stories, filled with goofs, guffaws, and hide-saving gallantry. Here are our winners!

 Evelyn Cooley said:
"We didn't start out to camp, but ended up with our VW Rabbit loaded with camping gear, 2 adults, and 2 children! We had expected to find a nice place to stay on the way, something that looked interesting. There was an event going on in the state and not one room available anywhere. We were getting ready to go back home. So sad. Someone suggested buying camping gear and camping out! Hey! We had a lot of fun picking out pans, pillows, towels, everything we would need to camp for a week. It was great fun to go around the store picking everything up & loading our cart. My son, age 4, got into the spirit of things when he saw a swing set. Dad, can we get that? Dad: "Sure put it in the cart." Son saw it was a joke, but it was fun. We had the little VW loaded. Amazing how much you can strap to the top of a car. It was the best vacation we had!"
Karla Reinhart said:
"Once when my children were 2 and 4, we went camping up the lovely Oregon coast, had a lovely vacation in our trailer after a rocky start (as my parents were going, their truck broke down, so we had to follow them home in their trailer and they went with us, staying in our trailer). Was a great time until we were about an hour from home when we had a flat tire, or should I say a blow out, that also tore our whole sewer system out. That has not deterred me from recently purchasing a new trailer with my new husband to start enjoying what nature has in store for us."
I hope you all enjoyed our Glamping with MaryJane giveaway extravaganza as much as I did. Congratulations to all the winners! Keep your eyes on your mailbox. 🙂
The glampin' book giveaways are over, but our glampin' good times are just beginning. Keep up with us by joining my new Facebook group, Glampers on the Loose, or by visiting our website, International Glamping Weekend. You can also check out my ever-growing collection of glamping photos and ideas on my Glamping boards on Pinterest.
If you haven't ordered your copy yet, look for it in stores or place your order on Amazon.
Glamp on.