Did you miss my recipes for ORGANIC hostess treats, whoopie pies, cream-filled chocolate sandwich cookies (you know what I'm talking about), etc. that were published in the 2010 April/May MaryJanesFarm magazine "Garden Secrets" issue?
With all the recent hubbub about Hostess going under, it felt like the perfect time to dig out my homemade hostess recipes and share them with you. Should you need a twinkie fix … and the company can't provide or … OR, you want to eat an organic, better-for-you twinkie, I've got you covered. (I don't want you going all Woody-Harrelson-in-Zombieland on me.) How ironic is it that the company who makes Twinkies, the yellow spongy cake that will supposedly last for an eternity, is going bankrupt around the end of the Mayan calender on Dec. 21st? Many people have taken this to mean it's seriously the end of the world. I might make myself a foil hat and dance around while eating homemade ORGANIC twinkies! (My organic version doesn't last forever anyway.)
While in my kitchen late one night in 2010, my first attempt to make a cream-filled "canoe" gave me fits.
But after two days and an embarrassing amount of not-quite-right cake that I fed to my compost, I finally got it right. It's a recipe for only 8 treats (the indents in a NorPro canoe pan) because the key is how some of the wet ingredients are whipped just before you fold in the final ingredients. The second half didn't come out of the oven as light and airy (because it sat on the counter waiting for its turn in the oven). So here's my tip: Follow my recipe to the T, even my instructions to lightly butter the pan. Oil spray didn't work as well. If you want to double the recipe, you're going to need two pans so they can both go into the oven at the same time.
You'll need a "Cream Canoe" pan (below, I bought mine on Amazon). The canoe pan comes with a 9-piece decorating set, perfect for injecting a creamy surprise inside or putting a swirl on top (stay tuned for my hostess cupcakes recipe coming tomorrow).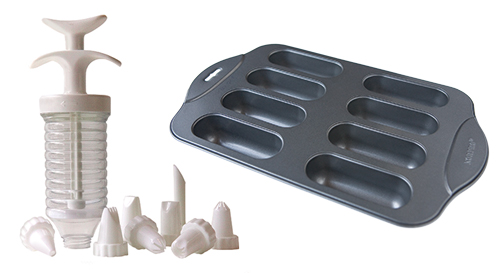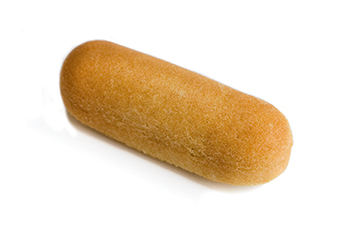 MaryJane's Organic CREAM-FILLED CANOES
Copyright MARYJANESFARM Magazine, April/May 2010
PREP TIME: 50 MINUTES
COOK TIME: 20 MINUTES
MAKES: 8 canoes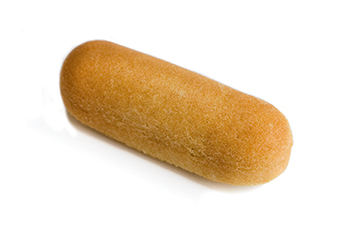 ¾   cup white organic unbleached flour (I use the quality specialty flour that I sell. I'm just saying. If you start introducing variables, I can't guarantee you'll meet with perfection like I did.)
¾    t baking powder (non-aluminum)
1/8  t salt
¼   cup water
3    T organic butter
2    organic eggs
½   cup organic sugar
¼   t organic vanilla extract
1. Preheat oven to 350°F. Lightly butter pan and set aside.
2. In a small bowl, thoroughly combine flour, baking powder, and salt.
3. In a small saucepan, heat water and butter just until butter melts.
4. In a large bowl, using an electric mixer, beat eggs, sugar, and vanilla until smooth and thick, about 6 minutes.
5. Fold flour mixture into the eggs/sugar/vanilla mix just until blended. Add the water and melted butter mixture and fold again just until blended.
6. Using a spoon, fill each impression in canoe pan half-full. (Do not overfill.)
7. Bake until cakes are golden and a toothpick inserted into the center comes out clean, about 18–20 minutes. Turn out onto a cooling rack, bottom sides down. Let cool and fill with Organic Cream Filling by injecting filling along the bottom in three places.
GLUTEN-FREE CONVERSION:
Substitute organic white rice flour (www.BobsRedMill.com), use 1 t baking powder, and use 3 eggs.
MaryJane's Organic CREAM FILLING FOR CANOES
¾    cup organic sugar
½    t cream of tartar
¼    cup water
1     T light organic corn syrup
2     organic egg whites, at room temperature
1     t organic vanilla extract
1. In small saucepan, combine sugar, cream of tartar, water, and corn syrup. Bring to a boil over medium-high heat, stirring occasionally. Reduce heat to medium-low, and using a candy thermometer, cook until mixture reaches 230°F. (Do not stir while mixture comes up to temperature).
2. Meanwhile, in a large bowl, using an electric mixer, beat egg whites until soft peaks form.
3. Slowly pour hot syrup into egg whites while beating. Beat on high speed for 2 minutes, or until slightly thickened. Add vanilla and beat 5–7 more minutes, until stiff peaks form.
4. Put filling into a cake decorator, using a #7 tip (or use the frosting/cream filling kit that comes with the canoe pan), and gently inject filling into three places along the bottoms of the canoes. -copyright MARYJANESFARM Magazine April/May 2010
Stay tuned for tomorrow: organic hostess cupcakes!!!!