How was your holiday? We had a spectacular time communing with friends and family. Coconut macaroons = devoured. Now that we are all back to work—it's time to pick the winner of the apron giveaway! Thanks to all who entered and became new fans of the International Glamping Weekend FB page.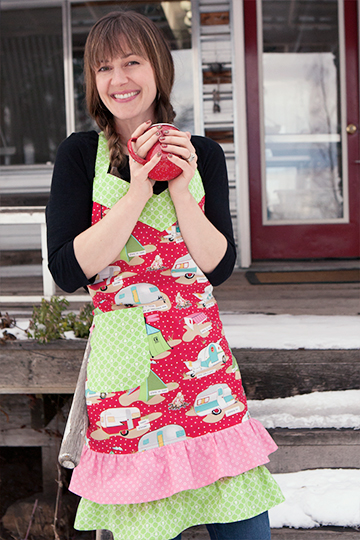 The glamping apron, above, was made by our very own Project F.A.R.M. (First-class American Rural Made) Elaine Forster of "Fit to be Tied Aprons." The lady who wins this is a lucky duck.
And the winner of the eye-catching cooking companion is ...
S Rachel H Perry
She said:
"For sure "Liked" it … me and my gals have our Glamping Weeks planned for the summer in the hills of Tennessee. Can't wait! I wear my aprons daily especially when packing up for camping and setting up when I get there."
Thanks to all who entered. And Rachel, keep your eyes on your inbox for an incoming email shortly.