And today we're ready to pick the winners of the Saverine Creek Heirlooms Jewelry! So Karina reaches into a basket of heirloom popcorn grown here at the farm last summer …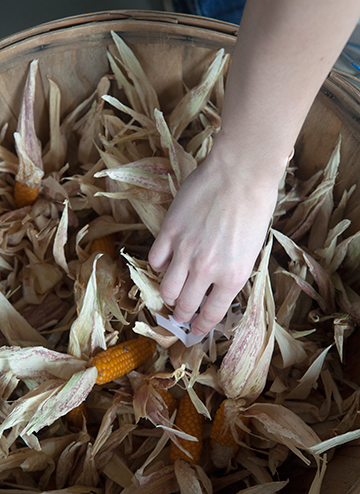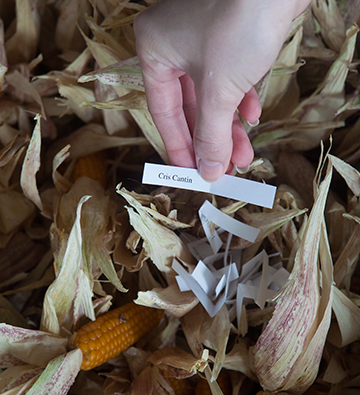 Our winner for the necklace is Cris Cantin! Congratulations!
Cris Cantin said:
I grow many varieties of heirloom vegetables and fruits on my 1/4 acre farmlette: Green Deer Tongue lettuce, Brandywine and Amish Paste tomatoes, Strawberry Popcorn, Duchess apples and Blue Prune plums, to name just a few. This year, I'm trying some new tomato varieties I found through Seed Savers Exchange, and I just ordered some lovely italian-variety zuchinni seeds from Baker Creek-I love that company so much, I bought all my sisters-in-law gift certificates to their catalog this year, and we're hoping to make a group trip to their gardens and historical village in the summer. I can't wait to get into the garden, but I suppose I'll need to be patient until all this snow melts away!
And our winner for the bracelet is Julia Hayes! Congratulations!
Julia Hayes said:
Last year I planted heirloom tomatoes..an early girl variety and heirloom squash. I bought them from Tolstoy farm at the Spokane Farmer's market. I have a glorious seed germinating shelving unit that Doc made for me years ago. I haven't germinated my own seeds in a few years. The most predominant reason is that I tend to over plant the darn trays and then I have plants coming out my ears! Seriously, hundreds of tomato plants…2 years ago, I brought the unit out of the barn, cleaned it off and for the entire time one is supposed to sprout seeds, that unit sat in my dining room becoming yet another catch-all for markers, stickers, school work, etc. etc. The kids are super excited about the garden this year so I may haul that thing out again for them to get involved. Selling the extra plants at the farmstand might just be the ticket. Last year the kids pulled in a whopping $51.3 golf balls! It was FUNtastic!!
Cris and Julia, keep your eyes on your inbox for an email from the farm shortly. Thank you to all who entered. We LOVED the comments on this giveaway!!!
And here's the original GIVEAWAY post dated March 9, 2013:
Stunning. Look what came in a box to us from a woman seeking her Project F.A.R.M. (First-class American Rural Made) status. I can think of several people I'd like to give her jewelry to as the one-of-a-kind gifts they are. For starters, I'm … at the top of my list and have ordered a pair of Cherokee Trail of Tears (an heirloom black bean) dangle earrings w/turqoise.
It's hard for me to part with these exquisite pieces of jewelry, but I just have to share and help spread the word.
How about you? Here's where you can find Debbie Groat and her amazing rural-made jewelry that she "grows" herself. I love it that she embellishes her well-made designs with just the right amount of silver, turquoise, etc. Don't miss a visit to her website. Did you know that 30,000 vegetable varieties have become extinct in the last century? Currently, we lose a variety every six hours.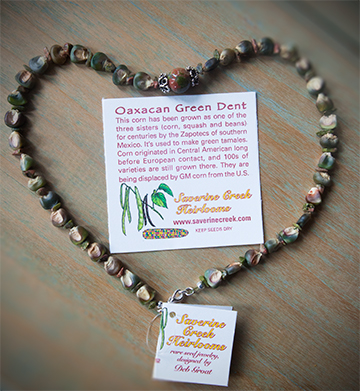 Oxacan Green Dent (value $42): This corn has been grown as one of the three sisters (corn, squash, and beans) for centuries by the Zapotecs of southern Mexico. It's used to make green tamales. Corn originated in Central America long before European contact, and hundreds of varieties are still grown there. They are being displaced by GMO corn from the U.S.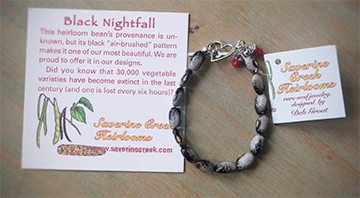 Black Nightfall (value $28): This heirloom bean's provenance is unknown, but its black "airbrushed" pattern makes it one of our most beautiful. We are proud to offer it in our designs.
The two winners that I'll pull from my garden apron pocket to receive the necklace and the bracelet need to tell me what heirloom vegetables they grew last year, where they bought the seed, and what heirloom varieties they plan to grow again this year. It's time to do the heirloom brag!