The April/May issue of our magazine, MaryJanesFarm, is now in the works and will hit newsstands mid-March. Each issue is filled with great tips like this one:
Classic American Clothespins
These days, it's hard to find a good-quality clothespin. The last large American clothespin manufacturer went out of business in 2007, and imported clothespins just aren't the same—wimpy springs and low-grade mystery wood that doesn't last throughout the seasons. At least that's what Herrick Kimball's wife told him. So Herrick got busy developing beautiful clothespins made to last a lifetime, crafted from sturdy ash with heavy-gauge, tight-coil, American-made, stainless-steel springs.
Classic American Clothespins is a small, home-based business with a big mission: to bring the manufacture of high-quality clothespins back to America by encouraging small-scale, decentralized production by entrepreneurial woodworkers all across the nation. With that in mind, Herrick sells both kits and clothespin springs (as well as finished pins).
Said Herrick, "I would love to see a network of clothespin crafters spring up all across the country, supplying heirloom-quality clothespins to people in their communities." Find out more at ClassicAmericanClothespins.com.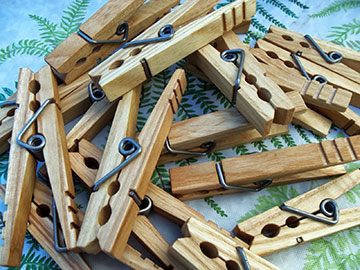 If you're not already enjoying our magazine, MaryJanesFarm, click here to subscribe.