We pulled Jenny from our hat!
On March 29, Jenny said:
"Glamping with MaryJane has become one of my escapes from reality. The day I received it in the mail I read it cover to cover, in fact,  I carried it with me to my daughter's karate class and several moms learned about glamping that day. I compare MaryJane's book to my childhood favorite by Dr. Seuss I Had Trouble in Getting to Solla Sollew because both books allow me to dream big and focus on my future. Glamping is a dream for my future!"
Congrats Jenny. Watch for an email from the farm.
And the original post was:
Lucy and Desi … honeymooning in a glamper?!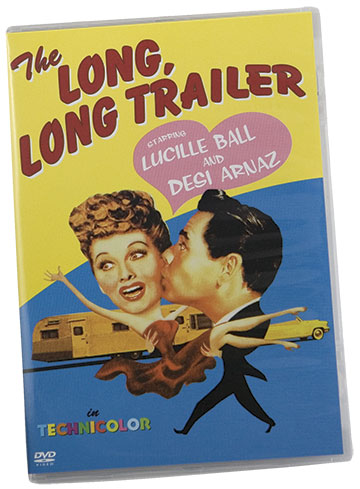 In this 1954 classic, you'll laugh at all the antics that ensue when Lucy and Desi decide to buy a 40-foot trailer for their first home. And you'll relate while Lucy glams up her new home and Desi grumbles his way down the highway.
From the cover: "They quickly find that the interior of a moving trailer is ideal for tossing a Caesar salad—and everything else. That backing up their 40-foot, three-ton home is only a little more difficult than threading a needle wearing boxing gloves. And that trailer-park folks are neighborly sorts who turn the lovebirds' rig into the wrong, wrong trailer by crashing the wedding night."
If you like glamping, you're going to love this DVD! Leave a comment telling us what you like most about my mother's book, Glamping with MaryJane, and we'll enter you in our giveaway. We'll put your name in a hat and pull out the winner … stay tuned!