And the winner is:
Robin Blitchok, who said on March 31, 2014:
"Love all the vintage musicals, Debbie Reynolds, Doris Day, Bob Hope, Bing Crosby, Danny Kaye, Audrey Hepburn, and Julie Andrews."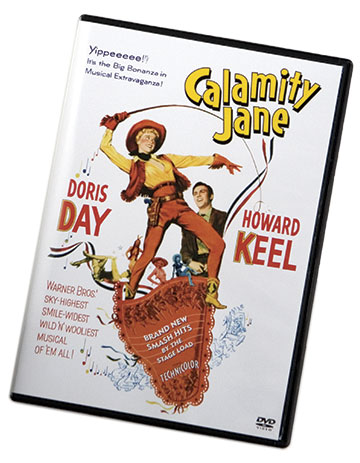 Robin, watch for an e-mail from the farm so we can get your new movie, Calamity Jane, on its way to you!
And the original post was:
"Yippeeeee! It's the Big Bonanza in Musical Extravaganza!" reads the cover of this 1953 classic, starring Doris Day in the title role and Howard Keel as Wild Bill Hickok.
"At first, curvaceous Calamity is too durned busy fighting Indians and cracking a bullwhip to pay mind to such girlie what-alls as dresses and perfume. And Wild Bill is too danged busy wooing a dainty chanteuse to give a hoot about a hot-headed tomboy. But things change in a rootin', tootin', big way when each becomes love's target. These are wide-open Technicolor Western spaces, lots of high-stepping dances, and a hummable humdinger of a score."
How the West was sung!
If you like vintage musicals, you're going to love this DVD! Leave a comment telling us who's your favorite musical comedy star, and we'll enter you in our giveaway. We'll put your name in a hat and pull out the winner … stay tuned!