Take a peek at the ca-ute cosmetics bag Carol found on Zulily for just under $7.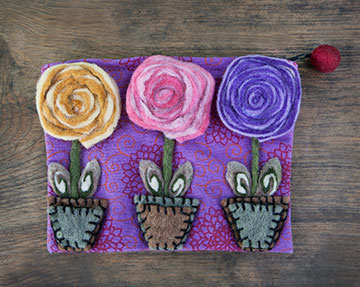 With a tapestry-like pouch and felted wool flowerpots and blossoms, it couldn't be ca-uter!
Zulily is a treasure chest of "sale events" that last just 72 hours … or less. You'll find clothing for women and kids, home décor, and more … all priced to sell (many items are up to 70% off). Lots of unique styles, lots of kitsch, lots of cute! The down-side is you'll have to wait 2-4 weeks for most shipments (you place your order, it's shipped from hundreds of companies direct to Zulily, then Zulily ships to you). The up-side is that anything you order in a 24-hour period is shipped for just one $8.95 shipping charge, even though the items will be shipped to you from Zulily in separate shipments as soon as they arrive there. So, you probably wouldn't buy this pouch online—by the time you paid for shipping, it might feel too expensive. But since Carol was buying a pair of shoes, a dress, a special-sized cast-iron pan, and a purse (it was a shopping spree, after all!), the one-time shipping charge was negligible.
At the least, Zulily provides lots of fun window-shopping. Carol's hooked!