That's right, the little cutie we all know as the Morton Salt Girl—yellow dress, umbrella, and spilling salt carton—has been with us for a century. Hard to believe, isn't it? Why, she doesn't look a day over eight.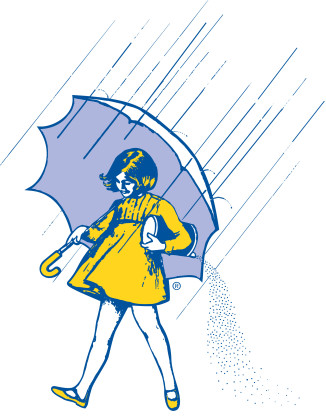 Needless to say, Morton's advertising campaign has been nothing short of genius, varying only seven times over the decades, just enough to keep our favorite rainy-day doll in fashion. The girl above has been used since 1968, and was just updated this year in honor of her 100th birthday. "Ever since the introduction of anti-caking salt in 1911, the Morton Salt Company had been trying to develop a concept that properly illustrated this innovative feature," explains the company's website. "While several plans were proposed, an originally disregarded concept was noticed by Sterling Morton, the son of founder Joy Morton. This idea was that of a young, umbrella-toting 8-year-old, who was accidentally pouring salt while walking in the rain."
"She is so much a part of the daily lives of Americans that many people see a resemblance to a sister, cousin, or niece, and they often write us to ask the name of the real person who was the model for the Umbrella Girl (in fact, there never was a real model)."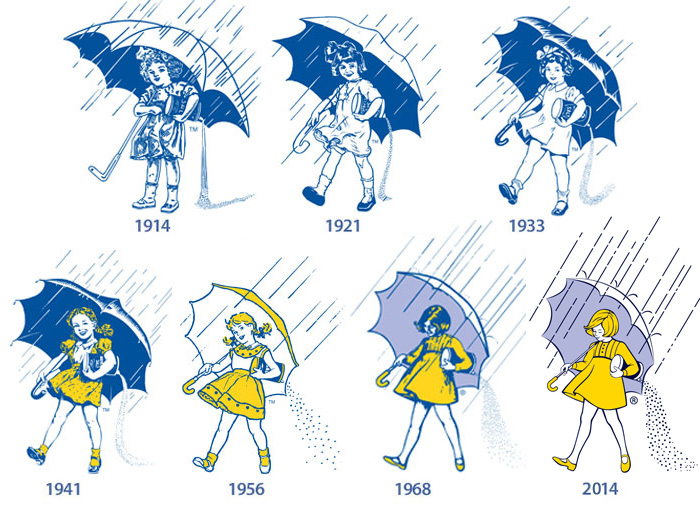 There's no doubt that the graphic was a winner, staking a claim in our national consciousness, but did you know that Morton's slogan is every bit as iconic? The company's original idea for a catch phrase was too wordy: "Even In Rainy Weather It Flows Freely." They tried others ("Flows Freely," "Runs Freely," and "Pours"). At last, they fell back on the old proverb, "It Never Rains But It Pours." The company put a more positive spin on the saying and coined the now famous slogan, "When It Rains It Pours."
The Morton Salt Girl's first ad debuted in Good Housekeeping in 1914, introducing her to the world. Here's one from 1952: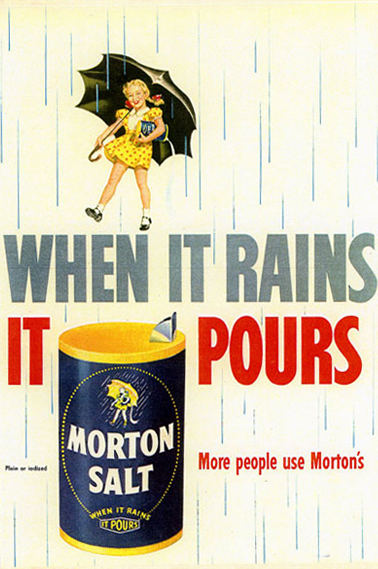 Interesting to note that the early ads all seem to feature illustrations that are different from the logos.
One hundred years later, she celebrated her 2014 centennial by landing a permanent spot on the Advertising Week Walk of Fame on Madison Avenue in New York City. "This honor is the icing on the Morton Salt Girl's birthday cake," said Shayn Wallace, Vice President of Sales & Marketing for Morton Salt's Consumer and Industrial Businesses.
In honor of her 100th birthday, the company donated $100,000 to fund Morton Salt Girl Centennial Scholarships that benefit select fine arts and culinary arts students at the School of the Art Institute of Chicago and the Kendall College School of Culinary Arts.