And the winner of the Project F.A.R.M. Country Kitchen Linens giveaway is:
Amy Kehoe, who said:
"I'd love to add some rural American charm to my kitchen here in England. I'm missing home while on deployment with my family through the end of the year. Good luck to all!"
And the original GIVEAWAY was (thank you to all who participated):
Looking to put a little bit of country into your kitchen? We'd like to welcome Jill Schrader into our lineup of Project F.A.R.M. (First-class American Rural Made) business owners. A native of Idaho, Jill's inspiration comes from her love of country, mountains, and what she sees out her windows. Jill creates classic, whimsical, country, and lodge-style kitchen linens to show off your personal taste. Stop by her new Etsy shop and give her a hearty country hello!
Oh, and toss your hat into our giveaway ring by giving her a welcome in the comments section below. We'll put your name in a hat and pull out a winner this time next week. Stay tuned!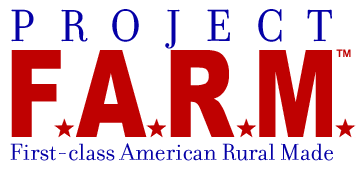 &nbsp