In the Aug/Sept issue of MaryJanesFarm, "The Experiment" (on newsstands July 14), we led you here to my daily journal for a chance to win a free sample of our ChillOver Powder. Over the years, we've given you lots of ideas for yummy concoctions using ChillOver Powder, my gelatin alternative. Looks like gelatin. Tastes like gelatin. It isn't. It's better! My innovative ChillOver Powder is for all the people who grew up loving gelatin desserts but gave up on them, knowing their animal origin.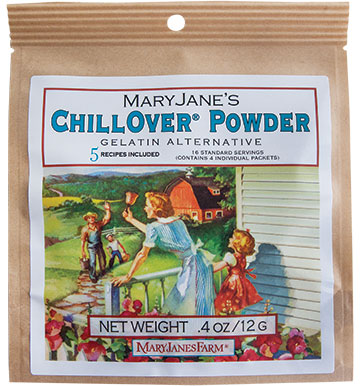 But recently, Megan discovered a new craft using ChillOver Powder: gel-plate printing. "After purchasing a commercial gel plate and spending some time 'printing' with it," Megan says, "I quickly understood what folks-in-the-know were raving about. But I couldn't stop thinking how easy these plates might be to make myself, so I took my newfound craft to another level: the kitchen. With a sense of adventure, I tied on my apron and experimented with MaryJane's ChillOver Powder, our gelatin substitute. The result? Well, let's just say the proof was in the printing."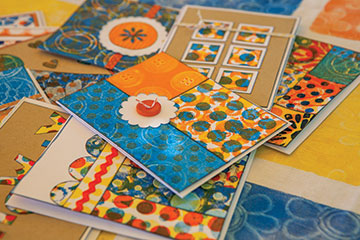 Find step-by-step instructions for gel-plate printing in the "Farm Life" section of the Aug/Sept issue. And for a chance to win a pouch of ChillOver Powder, tell me about a new craft you've discovered in the comments below. We'll toss your name in a hat and draw one lucky winner in mid-September, when the Aug/Sept issue expires on newsstands. Stay tuned for more magazine-related giveaways!
If you're not yet a subscriber to MaryJanesFarm, subscribe here for only $19.95/year.