In the Oct/Nov issue of MaryJanesFarm, "Hanky Panky" (on newsstands Sept. 15), I led you here to my daily journal for a chance to win my favorite botanical salve from Mountain Rose Herbs, an "herbs, health, and harmony company" from Eugene, Oregon.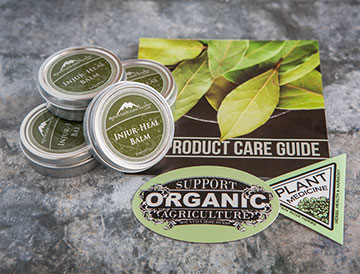 Enter to win one of four 2-oz tins of Mountain Rose Herbs' Injur-Heal Balm—with organic calendula flowers, fresh wild-harvested St. John's Wort flowers, organic arnica flowers, organic lavender, and more—by telling me how you support organic agriculture in the comments below. I'll toss your name into a hat and draw four lucky winners in mid-November, when the Oct/Nov issue expires on newsstands. Stay tuned for more magazine-related giveaways!
If you're not yet a subscriber to my magazine, MaryJanesFarm, subscribe here for $19.95/year.