In the Oct/Nov issue of MaryJanesFarm, "Hanky Panky" (on newsstands Sept. 15), I led you here to my daily journal for a chance to win a fanciful farmgirl soap from Hawaii's Filthy Farmgirl. Their ultra-cute labels have a decidedly tongue-in-cheek attitude—their "Live Nakedly" motto refers to their 100-percent natural ingredients, and a few of their titles bend toward the bawdy with double meanings, but there are lots of options for good, clean farmgirl fun.
You can win one of five large bars of Balmbastic Basil—"Explosively aromatic with a blast of basil and lemongrass, a rich beeswax balm, and a coarse millet scrub. Great for gettin' gardenin' grime off your filthy farmin' hands!"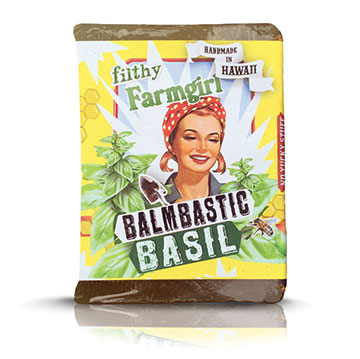 To enter, just share a favorite clean-up tip in the comments below. I'll toss your name into a hat and draw a lucky winner in mid-November, when the Oct/Nov issue expires on newsstands. Stay tuned for more magazine-related giveaways!
If you're not yet a subscriber to my magazine, MaryJanesFarm, subscribe here for $19.95/year.