When I got the bright idea to do giveaways in my magazine, I wasn't entirely sure they'd be successful. Two hundred and twenty-seven wonder-full comments later (on this giveaway alone), I'm confident it's as much fun for you as it is for us. So, stay tuned for more giveaways in each issue of MaryJanesFarm. The Oct/Nov issue just went on sale on newsstands, so it's time to announce the giveaways for the Aug/Sept issue, "The Experiment." For the next seven days (except for Friday, which is always our recipe day), I'll reveal the winners for each of our giveaways. Be sure to come back each day to see if you're the "won."
And the winner of the "Secret Garden, The Experiment" giveaway is:
Sheri Puls, who said:
"I absolutely love MaryJanesFarm! My mother brought an issue when she came to visit several years ago, and I subscribed soon after reading it. What do I love most about it? Lots of things! The recipes, crafts, gardening tips, stories about enterprising and creative women all across the country and even around the world—very inspiring! Thank you, MaryJanesFarm!"
——–
And the original post for the GIVEAWAY was (thank you to all who participated):
In the Aug/Sept issue of MaryJanesFarm, "The Experiment" (on newsstands July 14), we led you here to my daily journal for a chance to win a free copy of a wonderful book, Secret Garden: An Inky Treasure Hunt and Colouring Book by Johanna Basford, featured in our "Farmgirl Finds" section that has sold more than a million copies worldwide. Tumble down the rabbit hole into an inky black-and-white wonderland in Secret Garden. This interactive activity book takes you on a ramble through a secret garden created in beautifully detailed pen-and-ink illustrations, sheltering all kinds of tiny creatures just waiting to be found and brought to life through coloring.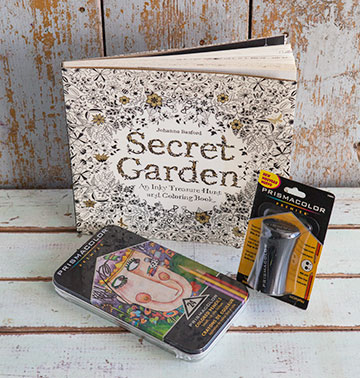 For a chance to win a copy of Secret Garden, along with a box of 24 Prismacolor Colored Pencils and a Prismacolor Premier Pencil Sharpener, tell me one thing you enjoy about MaryJanesFarm in the comments below. We'll toss your name into a hat and draw one lucky winner in mid-September, when the Aug/Sept issue expires on newsstands. Stay tuned for more magazine-related giveaways!
If you're not yet a subscriber to MaryJanesFarm, subscribe here for only $19.95/year.