The winner of my "Camp Like a Girl, The Experiment" giveaway is: Amelia Duluccio, who said: "Part of the joy of glamping is creating a creative and inspiring environment without spending a lot of money. I haunt garage sales, flea markets, and auctions for special vintage finds. If the color doesn't match, I paint it or cover it in fabric. I keep a stock of matching spray paint and vintage fabrics on hand to beautify my finds."
And the original post for the GIVEAWAY was (thank you to the 76 glamperific women who participated): In the Aug/Sept issue of MaryJanesFarm, "The Experiment" (on newsstands July 14), we led you here to my daily journal for a chance to win a free copy of Glamping with MaryJane, featured in our "Camp Like a Girl" article.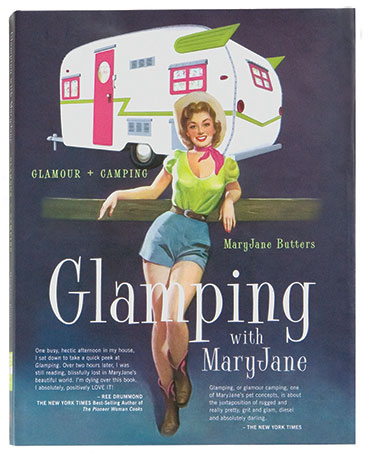 In our article, we give you lots of ideas to glam up your camping experience. For a chance to win a copy of Glamping with MaryJane, tell me one of your glamping ideas or tips in the comments below. (If you haven't picked up a copy of Glamping with MaryJane yet, order your autographed copy here.) We'll toss your name in a hat and draw one lucky winner in mid-September, when the Aug/Sept issue expires on newsstands. Stay tuned for more magazine-related giveaways! If you're not yet a subscriber to MaryJanesFarm, subscribe here for only $19.95/year.