The winner of my "Farmgirl Vintage, The Experiment" giveaway is: Michele DiMeo, who said:
"I get so excited when the magazine is in the mailbox, and I know I can relax for a little and enjoy some quiet reflection. I feel a connection to MaryJane; she must be after my own heart. I used to live in the mountains in Colorado and now enjoy my mini-farm/garden in Oregon. MaryJane, and the magazine that represents her lifestyle, are inspiration to my heart; we must be kindred spirits. I love seeing how she went from modest beginnings to embracing a full abundant life, obviously living life to the fullest. Just an aside note: I too am about the same age as MaryJane and embrace my long blonde hair. Thanks for being an inspiration!"
——–
And the original post for the GIVEAWAY was (thank you to the 134 inspirational farmgirls who left such heartfelt comments about how inspirational my magazine is!):
In the Aug/Sept issue of MaryJanesFarm, "The Experiment" (on newsstands July 14), we led you here to my daily journal for a chance to win a free copy of the quilting book, Farm Girl Vintage, by Lori Holt.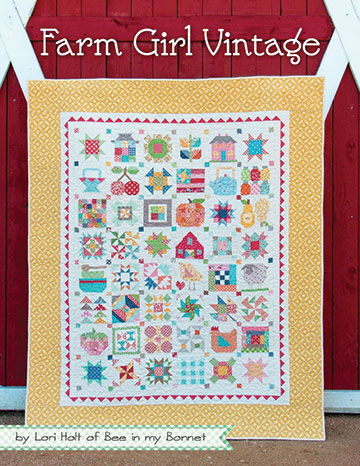 Rooted in sweet remembrance of childhood days on her family's farm, Lori's Farm Girl Vintage boasts a bumper crop of farm-fresh projects, including nearly 50 quilt blocks with ultra-cute designs like Mama Hen, Apron Strings, Milking Day, Baby Chick, and Pie Cherries, whose step-by-step instructions you'll find inside the book. And that fabulous quilt on the cover? It's Lori's signature Farm Girl Sampler Quilt, comprised of 45 of Lori's blocks. You'll also find instructions for more quilts, table runners, and potholders. Find even more inspiration on Lori's blog at BeeInMyBonnetCo.blogspot.com.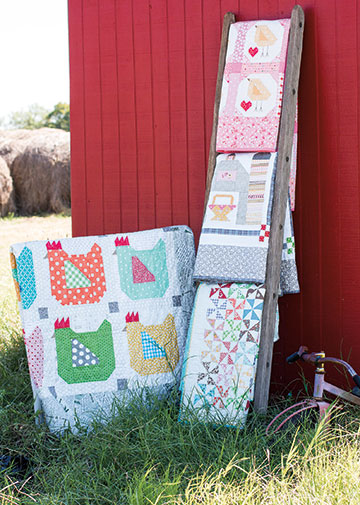 For a chance to win a free copy of Farm Girl Vintage, tell me how MaryJanesFarm inspires you in the comments below. We'll toss your name in a hat and draw one lucky winner in mid-September, when the Aug/Sept issue expires on newsstands. Stay tuned for more magazine-related giveaways!
If you're not yet a subscriber to MaryJanesFarm, subscribe here for $19.95 for one year.