A few months ago, I ordered a Flow Hive. It's literally honey on tap, right from your beehive. This innovative hive was developed by Australian father and son beekeepers Stuart and Cedar Anderson. The Andersons say their Flow Hive is the first hive design that eliminates smoking the bees and taking apart the hive to get to the honey. With the Flow Hive, you simply turn a handle that releases the honey into your waiting jars—without opening the hive and disturbing the busy bees inside. It also has a clear plastic panel that allows you to monitor the honey level inside the hive and observe the bees at work.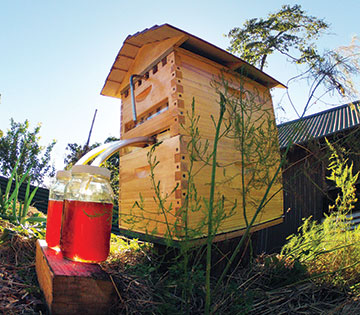 After reporting on the Flow Hive in the June/July 2015 issue of MaryJanesFarm, I decided it was just what we needed here at the farm. Won't it be fun to put the viewing panel to use by showing it to my grandgirls during one of our Young Cultivators sessions?
Visit HoneyFlow.com to find out more and actually "watch the honey flow"!