The winner of my "Welcoming Winter's Birds, Magic Happens" giveaway is: Jacqui, who said:
"I have enjoyed watching birds all my life, but even more so the past two years. My grandson, Ethan, loves to sit outside on my back porch and listen to the birds in the yard. He calls the Cardinals "Red" when he hears them. He points in the direction of their calls from one side of the yard to the other. He is also fascinated with a Red-tail Hawk that frequents a neighbor's yard and flies around mine."
———
And the original post for the GIVEAWAY was (thank you to the 51 women who shared their backyard bird sightings!):
In the Dec/Jan issue of MaryJanesFarm, "Magic Happens" (on newsstands Nov. 10), I led you here to my daily journal for a chance to win a 10-pack of organic, vegetarian suet to help welcome winter's birds into your back yard.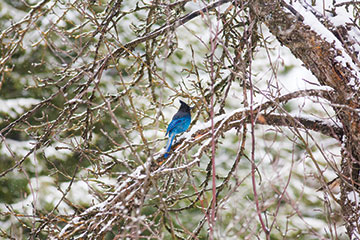 If you've ever paused beside a window in wintertime, warm coffee cup in hand, and watched a sprightly flock of songbirds flitting among the branches of your back yard, you've been blessed. For a chance to win a 10-pack of assorted organic, vegetarian suet to welcome them (from the aptly named company, Birds Don't Eat Cows), tell me about the winter birds in your area in the comments below by Dec. 1. I'll toss your name into a hat and draw a lucky winner the second week of December. Stay tuned for more magazine-related giveaways!
If you're not yet a subscriber to my magazine, MaryJanesFarm, subscribe here for $19.95/year.