The winner of my "Girl Ran Away, Magic Happens" giveaway is: Susie Maass, who said:
"My favorite farmgirl artisan is my mom. She grew up on a farm in Washington State and learned to can, sew, cook, and bake from her mother. She made most of our clothes, which I didn't truly appreciate until I was in high school and found that my mom could recreate just about any piece of clothing I wanted and make it uniquely mine, rather than something that came off a rack! She cut out recipes from the newspaper and magazines and came up with creative meals for our family, even when times were hard. She made loaves of bread and pans of cinnamon rolls every week, and even though I envied my classmates' sandwiches made with Wonder Bread, I knew that mine were made with love, which made them oh-so-much better."
———
And the original post for the GIVEAWAY was (thank you to the 37 women who shared their favorite farmgirl artisans!):
In the Dec/Jan issue of MaryJanesFarm, "Magic Happens" (on newsstands Nov. 10), I led you here to my daily journal for a chance to win a beautiful spoon-handle pendant from Erin Thormosdgard's jewelry business, Girl Ran Away with the Spoon.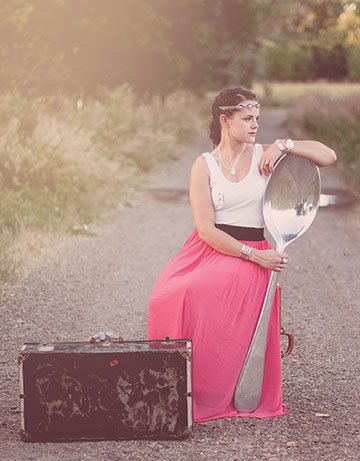 Girl Ran Away with the Spoon creates handcrafted artisan jewelry and gifts in the heart of historic downtown Miles City, Montana. For a chance to win one of Erin's spoon-handle pendants, tell me about your favorite farmgirl artisan in the comments below by Dec. 1. I'll toss your name into a hat and draw a lucky winner the second week of December. Stay tuned for more magazine-related giveaways!
If you're not yet a subscriber to my magazine, MaryJanesFarm, subscribe here for $19.95/year.